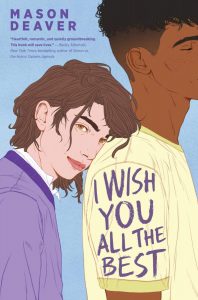 When Ben comes out to their parents as non-binary, they immediately kick them out of the house. Maybe this shouldn't have been a surprise, since their older sister, Hannah, has been estranged from their parents for ten years – but Ben still wasn't ready for it. With nowhere else to turn, Ben moves in with Hannah and starts the second half of their senior year at a new school. No one's ever really prepared to be rejected by their parents, and – even with the help of a therapist – Ben struggles to come to terms with their anxiety and complex feelings surrounding their parents and Hannah. The one bright spot is Nathan, a seemingly constant source of optimism and laughter who just happens to be really, really cute.
With I Wish You All the Best, author Mason Deaver has given us a vital exploration of the fraught experience of coming out as non-binary to an unreceptive family. Though in recent decades, coming out as queer has become a safer experience for many (though not all) young people, narratives about exploring non-binary gender identities are rarer, and even parents who would accept their child as queer may have a more difficult time understanding a non-binary identity. (In Ben's case, that's putting it lightly.) I Wish You All the Best provides a valuable resource for parents or allies who want to educate themselves, but the most important function it serves is for non-binary teens who need representation, affirmation, and guidance – and aren't finding it in the YA section of their local library.
One of the things I loved most about I Wish You All the Best was the way it modeled what can be difficult conversations about gender identity with parental figures, friends, siblings, and romantic interests. It's not always easy for Ben to explain how they're feeling, or why they're feeling that way, which is why I think it's so important that this novel stages these conversations several times, not just once. Sometimes Ben's allies make mistakes – which they apologize for and correct. In these moments of conversation, the novel provides a guide for how to articulate some of the complex feelings that surround gender identity, while simultaneously signaling to readers a kind of etiquette for discussing the non-binary gender. As simple as that may seem, it's something that's sorely lacking in mainstream American culture.
There are times when readers who haven't come explicitly to engage with these issues may feel the novel drags a little bit; as the old adage says, nobody really wants to hear about anyone else's therapy (same thing goes for dreams). But therapy is such a key process for helping Ben heal that I think it's important for the novel to normalize it, not to mention the fact that it can show teens who might be hesitant about therapy what the process is like, or – in a worst-case scenario – provide a kind of therapy for those without access to those resources.
Nathan also seems a little bit too perfect – in a novel that deals so realistically with Ben's negative feelings of depression and anxiety, I found myself also worrying about Nathan and whether or not his unfailing optimism was a mask that might be difficult for a teen to wear all the time. (I guess that's a side effect of a novel that spends so much time on therapy!) But, again, this serves a larger purpose. Nathan is both a fairy-tale ending and a source of support for Ben, frequently reassuring them that they're not a burden – both of which non-binary teens need and deserve.
Ultimately, these elements didn't detract from the experience of reading for me. After all, no one novel can bear the weight of all representation, and these "problems" aren't really with I Wish You All the Best but with the fact that there are so few books with non-binary representation. Hopefully, Mason Deaver's debut will be a sign that that's about to change!
A copy of this book was provided by the publisher, Scholastic, for review.