When author Margaret R. Chiavetta reached out to me about her fantasy novel, The Alchemist's Theorem: Sir Duffy's Promise, I was really excited about the premise, and the book certainly did not disappoint! Sir Duffy reminded me of Hagrid, while Mendel made me think of Michael, Wizard Howl's apprentice from Diana Wynne Jones's Howl's Moving Castle. The book is filled with magic, potions, creatures, and adventure. Aimed at a middle grade/young adult audience, this is definitely a book that all ages will be able to enjoy, just like the Potter series!
Mendel is a bit different than other children – he's a bit awkward and is cast out by his schoolmates – but he's very intelligent and a quick learner. This is how he comes to be an apprentice for Sir Duffy. He hopes to attend the Living Arts Academy, where his mentor once taught. First, however, he, along with Sir Duffy, must travel across Terra Copia with the fate of the world at stake! There's plenty of action involved – fighting off dangerous pixies, for example – and plenty of bonding for the two. Sir Duffy and Mendel may be mentor and apprentice, but they behave more like father and son. The friendship between the two characters is quite heartwarming.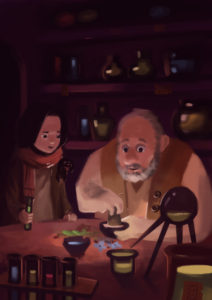 Some of my other favorite characters and scenes from the book are of the various creatures. Mendel's relationship with his gusselsnuff, Esther, reminds me of Hiccup and Toothless in How to Train Your Dragon – they're best friends and they always look out for each other. Esther is always curled up around Mendel's shoulders and peeking out from behind his hair. Another one of my favorites is the shapeshifting cappamorph that Mendel and Sir Duffy happen to come across in the forest:
Suddenly, the cappamorph looked like it was melting. Colors and body parts twisted together and disappeared. The creature looked like a blob for a moment but then raised itself upright, no longer a boy. It had changed into a giant, iridescent caterpillar creature.
This sounds like something we might see in Newt Scamander's Fantastic Beasts and Where to Find Them! I also loved the descriptions of the world of Terra Copia in which the story takes place. One passage I particularly enjoyed was when Mendel enters an enclosed garden at the school of alchemy, which has an enormous stained glass dome. Chiavetta beautifully sets the scene, describing how Mendel feels as though he's seeing some colors for the first time in his life. She really makes the world come to life through these scenes and all the detail that she gives the reader.
Can we also talk about design for a second, because this book is gorgeous! It's available in paperback and e-book, but I received the hardcover edition. The cover is a brick-red cloth with metallic gold inset type for the title and cover images. It looks magical, like a book you'd find in an old shop – and that's just the cover! Inside, the pages are crisp and clear with digital illustrations peppered throughout. The beautiful hardcover is only available for purchase through The Seattle Book Company. My copy came with a complimentary bookmark featuring one of the lovely illustrations from the book!
This is Chiavetta's first book, and I'm sure there are more great stories to come from her! You can keep up with what she's up to by following her blog and social media!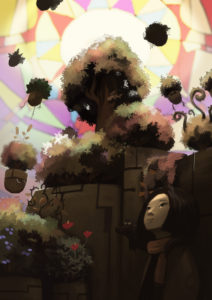 A big thanks to the author for reaching out and providing a copy of the beautiful illustrated hardcover version of the book!