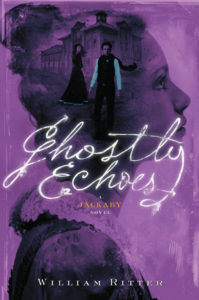 It may still be months until Season 4 of Sherlock airs, but luckily we don't have to wait nearly as long for the latest escapades of another of our favorite detectives: R.F. Jackaby. The third installment of the series that has been widely hailed as a compelling combination of both Doctor Who and Sherlock Holmes has arrived, and it's just as good (if not better) than the first two books.
During the second book, Beastly Bones, the agitation of resident ghost Jenny over her decade-old unsolved murder was beginning to fester, but Jackaby and clever assistant Abigail Rook had more pressing matters to attend to. Now, Jenny's troubles are front and center as she and Abigail set out to solve her murder once and for all. Jackaby is hesitant to help initially, fearing that pushing Jenny to remember the traumatic events surrounding her death might disturb her so greatly that she disappears forever, but when murders just like Jenny's begin occurring in the area, he has no choice.
Author William Ritter has an impeccable sense of narrative timing, having ignited just the right amount of maddening curiosity about Jenny's past in the first two books to make Ghostly Echoes launch with a ton of momentum. Momentum, I might add, that doesn't let up through to the novel's exciting conclusion. I appreciate so much that Ritter didn't draw out the mystery too much, making readers wait ten years or something like that. Instead, he prepped and hinted and used Ghostly Echoes not only to explore the mystery of Jenny's death but also to blow open the biggest case that Abigail and Jackaby have tackled so far. The man has got a serious talent for writing fast-paced, compelling, speculative fiction with likable characters. I don't know if the series has been optioned for television yet, but in the right hands, there's almost no way it wouldn't be a hit.
I can sum it up best by saying that if you liked the first two books in the series, Ghostly Echoes has got everything you loved and more: Jackaby's distracted yet endearing demeanor, Abigail's bravery and perseverance, their rapport, and all the weird and magical happenings that make life in New Fiddleham so…interesting. The only bad thing about it is that we'll have to wait at least another year to find out what happens next.
A copy of this book was provided by the publisher for review.