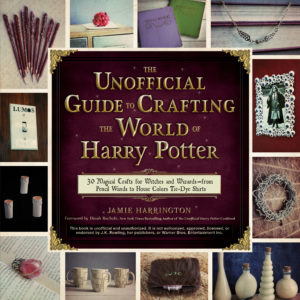 If you're an avid follower of MuggleNet's Potter DIY section, you'll absolutely love The Unofficial Guide to Crafting the World of Harry Potter by Jamie Harrington.
The author created these crafts and wrote the book with her daughter, so there is plenty in this book for crafting Potter fans of all ages! It includes crafts of all types, from décor to beauty to school and more! I loved that it was very visual and the instructions were easy to follow.
The foreword of the book was written by a familiar name to MuggleNet fans: Dinah Bucholz, author of The Unofficial Harry Potter Cookbook and contributor to MuggleNet's Rosmerta's Recipes section. Our very own Keith Hawk conducted an interview with Dinah back in 2010.
The ideas in this book would be great activities for parties (perhaps a Potter wedding?) – making them as favors, making them together with your guests, or making them as decorations for your Potter-themed celebration.
With Hogwarts back in session now, the Monster Book of Monsters Tablet Cover would make a great project for young witches and wizards. Keep your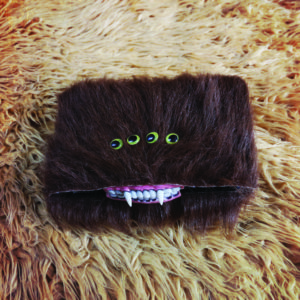 e-readers or tablets safe and protected. Don't worry – it doesn't bite, but it will definitely win you some points when you show up to your Care of Magical Creatures class!
The book also provides inspiration for turning your ordinary notebooks and pencils into spell books and wands. Plus, you can show your Hogwarts House pride with the House Colors Tie-Dye shirt.
Even crafts that you might think are a bit more difficult, such as making lip gloss, are easy as a swish and flick with the instructions from the book. I tried my hand at making the Butterbeer Lip Gloss, and it was a huge success! Not only did it smell just like butterbeer, but it made my lips (and my family's – because they all wanted to try it out!) soft and shiny. Put it on, and you'll be the belle of the Yule Ball, especially when paired with the Golden Snitch Necklace. Note: I did end up substituting Vaseline for the beeswax, but it came out just fine! If you don't have exactly all of the ingredients or parts for the craft, it's totally fine to improvise! The book even makes some suggestions and has tips, like if you don't have a glue gun for some of the projects.
So grab your friends and family, and give the magical crafts in this book a try! Send us photos of your Potter creations inspired by the book on social media, or let us know in the comments if the book inspires you to come up with your own creative Potter projects!
A copy of this book was provided by the publisher for review. You can find out more about Adams Media by following them on Twitter or by liking them on Facebook.