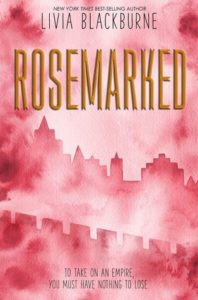 Zivah is a talented healer – the youngest one her village has ever seen – so when a troop of Amparan soldiers comes down with the deadly rose plague, she knows she must do her best to cure them. For the most part, she succeeds – but comes down with the plague herself. She survives but is rosemarked by the disease, meaning that she must live in isolation to avoid infecting others. Dineas is also a survivor of the plague, though unlike Zivah, he escaped unscathed. Both have reason to resent the Amparan Empire, and it's only by working together that they can overthrow the imperial regime.
Rosemarked is the latest in what I like to think of as the "Snape-inspired" YA trend, in which the protagonists are talented alchemists, healers, and makers of potions. Zivah's extensive knowledge of venoms and herbs allows her to concoct draughts that are essential to Dineas's aims of infiltrating the Amparan army, and nothing less than the magnitude of her skills could draw these two protagonists together. The two clash at first, but necessity forces them together, and their slowly unfolding trust, friendship, and (eventual) romance are the real centerpieces of this book.
I really like the world author Livia Blackburne has created in this book – all of Zivah's training and the rose plague itself are just close enough to reality to feel convincing but are also otherworldly and magical at the same time. Besides Zivah and Dineas's slowly simmering romance, the rest of Rosemarked is mostly made up of political intrigue, which Blackburne deftly navigates throughout the work. It's an enjoyable YA fantasy with a just dash of Eternal Sunshine of the Spotless Mind for good measure.
Rosemarked is the first in a new series and ends on a cliffhanger. If it's any consolation, the cliffhanger is a pretty solid promise of exciting things to come from Livia Blackburne!
A copy of this book was provided by the publisher for review.