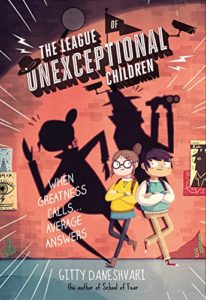 When the stupidest Secret Service agent allows the Vice President to be snatched, along with a computer containing some of the US government's secretest secrets, none of the country's top spies can do anything about it because they're only one password away from having their cover blown – and the Vice President, who has that password, has a very low threshold of torture. With the country on the brink of ruin, and its best and brightest out of the game, all depends on two completely mediocre Evanston, Virginia, middle school students.
Jonathan Murray and Shelley Brown are so average, they're almost invisible. People they have seen every day since they started school tend to forget their names and sometimes forget ever knowing them. Jonathan wears khakis, heaven help him. Shelley talks in an almost inaudible whisper, which is a mercy because loneliness has made her a bit loopy and she is constantly retracting the bizarre statements that flow uncontrollably out of her mouth. After 24 hours of training by an intelligence outfit that hides its entrance inside the refrigerator in a hot dog stand, their spy skills are no better than you would expect – and even worse when they have to work together. Yet even a pair of teen supermodel agents on loan from the UK lacks something they have: the ability to go anywhere without being noticed.
These kids' spy adventure is just as ludicrous as you would expect, and the danger level never feels really high. But what the story lacks in hard-hitting action and wire-taut tension, it makes up in tummy-tickling comedy. The book packs in a steady series of giggles, snorts, guffaws, and breathless fits of hilarity that rarely lets up. It swerves crazily from pure goofiness to pointed satire, developing characters who build in funniness even as their deeper qualities come into focus. It never misses a laugh line, even in the chapter headings featuring quotes from random, brutally average children around the country. From its general concept to its tiniest detail, this book is just a hairsbreadth too lovable to qualify as tickle-torture.
Gitty Daneshvari is also the author of the wacky young-adult fantasy School of Fear trilogy and the grown-up romantic comedy novel The Makedown. Meanwhile, this book now has two sequels, Get Smart-ish and The Kids Who Knew Too Little.
This review was originally based on a Kindle reader uncorrected proof, provided through the pre-publication review website NetGalley before the book's release in 2015.
Interested? Buy a copy here.