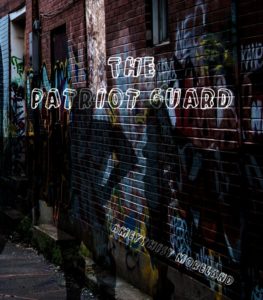 The Patriot Guard, by Ameythist Moreland, is about Cale and Parker, two government-created superheroes. Cale has been made into "Patriot Prime," while Parker becomes "Stolid Sentry." Together, they serve their city through directives from the members of the city's Tribunal, which includes Parker's callous father. Cale and Parker are a beacon of hope for the city as they try to take down a seemingly sinister group of Variants, genetically mutated super-humans, who are led by the great-great-grandson of Nikola Tesla. But as they delve deeper into the case, Parker and Cale realize everything may not be what it seems, and the Tribunal may not have their best interests at heart.
I found this book very enjoyable. Despite being written in present tense (which I always find extremely jarring, especially in a novel focused on action), the plot is interesting and the characters are very likeable. Cale and Parker both have pretty large problems they're dealing with, and it was interesting to see how the characters went about solving them. Moreland also establishes early on that the story will not revolve around Parker and Cale falling in love, which was a relief. It allowed me to just enjoy the plot and the characters' friendship without wondering if Moreland was trying to develop something more between them.
The plot is neither too complicated nor too simple. You can see most of the twists coming before they do, but they are still very satisfying. By the end of the novel, I was definitely left with questions I wanted answered. It says in the back of the book that this is the first in a trilogy, with the next book titled The Servants of the People, and I think The Patriot Guard does an adequate job of setting up the next novel. Moreland ends the book with a pretty big cliffhanger, so I would like to see what happens next. The Servants of the People will be released on July 10. You can learn more about the author and the series here.
This novel reminded me a lot of Marissa Meyer's newest book, Renegades. If you enjoyed that book or like reading about superheroes, you will definitely have fun with The Patriot Guard, as long as you don't mind reading in present tense!
A copy of this book was provided by the author for review.
———————
Win a copy of The Patriot Guard for yourself! We have three autographed copies to give away for US readers and three Kindle editions, plus an autographed The Patriot Guard collector postcard to give away for entrants outside of the US.
This contest will run from June 1 through 11:59 p.m. on June 15. Winners will be contacted by email and must respond within 24 hours, or another winner may be chosen.
Enter below for your chance to win!