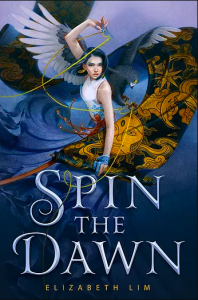 Maia Tamarin knows she's talented. As the only daughter of an ailing tailor, she's taken on most of her father's and brother's responsibilities, even though she won't receive credit as a woman. That all changes when the Emperor summons the greatest tailors in the land to court. Maia sees her opportunity and takes it, disguising herself as a man in order to compete for the prestigious royal tailor's position. Though she faces death if she's caught, Maia is determined to win, fighting through the competition with the help of the royal enchanter and a pair of scissors that just might be magical.
Maia is the kind of protagonist that you can immediately fall in love with. She's smart, resourceful, and determined, and she cares deeply for her family, even when they fail her. She doesn't quite fit in with the other people in her village, so escaping to the capitol is a dream come true. Once she's there, she's never fooled by the false kindness of her competitors, dodging treachery from every side. Her resilience attracts the attention of Edan, the charming enchanter with a thousand secrets. Their bickering turns to a sweet romance as they embark on a harrowing quest together.
Elizabeth Lim's poetic writing creates a compelling narrative with rich, complex characters and a fascinating political conflict. The women of the story and the complicated relationships between them are what propel it, something many fantasy novels tend to lack. Young adult readers will appreciate how this book manages to be both mature and whimsical at the same time.
Spin the Dawn tells the tale of an epic journey with a fantastic main character and an adorable love story at its center. Fans of Mulan or Where the Mountain Meets the Moon will love the mythological aspect of the novel and the heroine at its center. Preorder your copy here before it comes out on July 9.
A copy of this book was provided by the publisher, Knopf Books for Young Readers, for review.