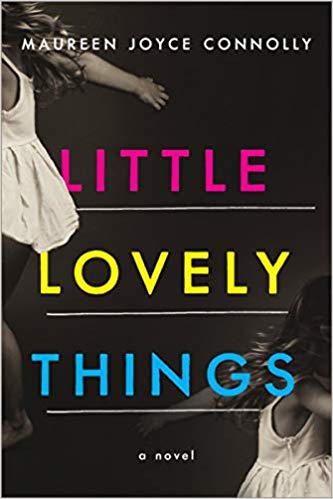 Claire Rawlings is speeding down the freeway, her two sleeping daughters in the back seat, when she is overcome by an allergic reaction to a recent vaccine. She pulls over into a nearby gas station, rushes into the outdoor bathroom, and leaves her children sleeping in the running car. And then she blacks out. When Claire comes to her senses, she rushes outside to see that her car is gone – with her precious daughters still inside.
Little Lovely Things, by Maureen Joyce Connolly, is every parent's nightmare. The fact that a split-second decision could change the course of our entire lives is always hanging around in the back of our minds. Unfortunately for Claire, her life changed in the worst way.
This book follows the perspectives of a small handful of key characters as the years progress: Claire as she throws herself into her career in an attempt to bury her grief; Moira, a naive transient who is thrust into motherhood; Jay, whose intuition plays a key role in a story he never meant to be a part of; and Andrea, the artistic tomboy with a past she can't remember.
While I can't really write anything more on the plot because everything from here on out is a game-changing spoiler, I am definitely fully prepared to gush about this book to anyone who will listen.
I was absolutely blown away by the writing. As a debut author, Maureen Joyce Connolly has definitely shown us that she's a literary force to be reckoned with. Maybe it's because I'm a parent, but I felt all of the emotions in this book to my core. I was horrified and angry for Claire, I was scared for Andrea, and I was worried right alongside Jay. Bringing Jay's Native American heritage into this story brought a level of depth and divinity to the plot that I wasn't really expecting to find in a thriller. As I was reading, there were only a few instances when I guessed what was going to happen, but a lot of this plot relies on the reader knowing what's going on long before the characters; it was so satisfying seeing those little moments "click" once the characters figured them out.
And on the subject of characters – I loved them. Even Moira, the villain. It's rare to meet such a diverse cast of characters who just so naturally belong together. Nothing about this felt forced; Connolly's characters were all just in the wrong place at the wrong time (or the wrong place at the right time, in the case of Jay), and the way their stories intertwined throughout the rest of the book was phenomenal. From the way Claire buried her grief to the witty, trickster ways of Andrea, there was not a single character that felt incomplete.
Little Lovely Things is a story of grief, but it's also a story of hope. It is an intricately woven story of the different meanings of "family," of trust, and of desperation. It is a psychological thriller must-read, and I cannot wait to see what else Maureen Joyce Connolly has in store for us.
A copy of this book was provided by the publisher for review.