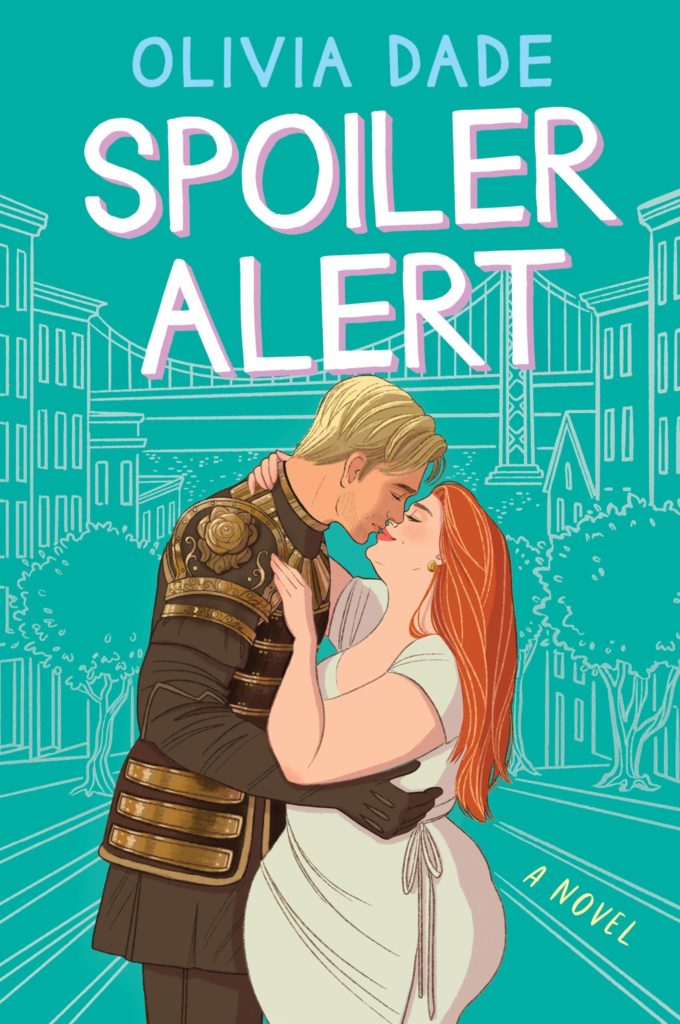 From self-proclaimed "bawdy" romance author Olivia Dade comes the heartful, funny, and steamy new novel Spoiler Alert.
I first heard about this book on the All the Books podcast, where Dade's writing was recommended for fans of Jasmine Guillory. Considering I own every book Guillory has ever written, I snatched this one up immediately, and let me tell you – I was not disappointed.
Spoiler Alert is told from two perspectives: April Whittier, plus-size cosplayer and geologist, and Marcus Caster-Rupp, meathead heartthrob and star of the hit show Gods of the Gates. When April posts a pic of herself in full Lavinia cosplay (one of the main characters from Gods of the Gates), the Twitter trolls are ruthless. Seeing their storm of insults, Marcus, who plays Lavinia's lover, Aeneas, publicly asks April out. What neither of them knows is that they already know each other – in fact, they're best friends. Posting under pseudonyms, Marcus and April are both avid fanfic writers on the fan server that ships all things Aeneas and Lavinia.
When they meet up for their date, Marcus quickly realizes the connection. April, meanwhile, is convinced the man she's eating with is just as shallow as he's always appeared in interviews. As they continue to date, Marcus wonders whether he should tell her the truth – that he knows her better than anyone.
As someone who is not super familiar with the world of fan fiction – whether that be Harry Potter fics or otherwise – I found Spoiler Alert to be a delightful introduction to a world that had previously been a mystery. Dade did an incredible job of building both excitement and tension in me as a reader. I simultaneously wanted to scream at Marcus to tell April the truth and urge him to keep it a secret (because, you know, it could be career suicide).
But the steamy parts! Boy, were they steamy. Since I'm only beginning to explore the world of romance, Dade's sexy scenes were more detailed than I was expecting. But I'm not mad about it. I also really appreciated seeing a plus-size protagonist enjoying themselves in this way.
While Dade delivers on the romance, she also doesn't shy away from more serious issues. At the beginning of the novel, April makes the decision to no longer hide who she is and what her passions are. And that includes addressing relationships and boundaries around size and body image. April's discussion with her mother later in the book, in particular, really hit home for me. Seeing the development of April and Marcus's relationship and the ways in which they support each other to make difficult decisions was really wonderful. If there's any fault to find at all in this novel, it's that their relationship is almost too wonderful. Their ability to calmly discuss their feelings is enviable.
I read this book as part of the January challenge for MuggleNet's year-long reading challenge, Folks All Reading Together (or FART), and I'm so glad I did. Whether you're new to the genre of romance or already an expert on love, I highly recommend you pick up a copy of Spoiler Alert. There are fluffy fanfics, there are dramatic pronouncements, and – most of all – there's love.