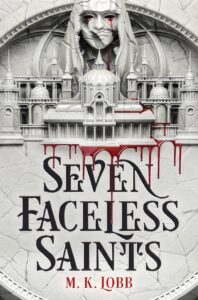 What happens when lovers are separated by war and then unexpectedly reunited in a world of saints, criminals, and just enough danger to leave everyone unsettled?
This question is the foundation of Seven Faceless Saints, the new YA dark fantasy mystery from M.K. Lobb.
Roz Lacertosa and Damian Venturi grew up as close friends–turned–young lovers until the war between rebel and national forces tore Damian away from home. Years later, the two are shells of their former selves and in vastly different social circles in Ombrazia.
Damian now guards the Palazzo, the living and working quarters of the disciples of the seven saints, who offer skill and protection and command political control over the city. He works for his father, General Battista Venturi, amid a sea of spiritual leaders and devout, wealthy citizens.
On the other hand, Roz spends her time fighting to stay alive and keep her frail mother safe. She is a chosen disciple of one saint, Patience, but longs more than anything to address the injustices she sees in the treatment of the poor and disenfranchised in Ombrazia.
When a slew of unexplainable murders in the city forces Roz and Damian back into each other's lives, they find themselves fighting not just fantastical power grabs and administrative corruption but also their own complex feelings for each other. Along the way, they both must also confront their own traumas and biases as they find themselves inexplicably (and physically) pulled together.
Seven Faceless Saints combines the best aspects of true crime, high fantasy, and YA dystopian novels into one fast-paced story worth re-reading. The worldbuilding climbs throughout the novel as the reader follows Roz, Damian, and the variety of secondary characters they interact with. The split-perspective POV adds layers of depth to each of the characters without complicating the narrative.
At times a political thriller, at others a spiritual exploration of the power of faith, and always a slow-burn romance, Seven Faceless Saints seems to have something for every reader to cling to as the dark turns of the story keep winding. The surprise ending, and possible tease for books to come, fulfills the tension and suspense the book builds all in one fell swoop.
Anyone looking for a sizzling slow burn should know that romance is never the focus of the main plot, though there is plenty of romantic tension rippling below the surface. Fans of the dystopian genre will welcome this breath of fresh air, as will those looking for a new high fantasy to add to their TBR.
A copy of this book was provided by the publisher – Little, Brown Books for Young Readers – for review.