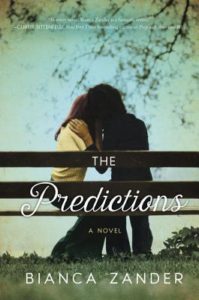 The Predictions is a coming-of-age novel with a unique depiction of young-adult life. Written in a memoir style with an exploration of gender roles and responsibility, Bianca Zander's second novel immerses readers into the complexities of change.
The story starts off in Gaialands, an isolated commune tucked away in the Coromandel hills of 1970s New Zealand. But much unlike the stereotypical hippie lifestyle of this era, Gaialands is a place of hard work and conformity. Life at the commune takes a shift upon the arrival of Shakti, who initiates a ceremony called the Predictions among the teenagers. When Poppy Harvest receives a prediction telling her that she will find her true love "in a faraway land," she is burdened with the decision of whether to follow or outrun the destiny bestowed upon her.
Right from the beginning, the narrative does not shy away from harsh realities and truths. This continues throughout the book as the journey takes Poppy from the ragtag suburb of Freemans Bay to the sex, drugs, and rock 'n' roll scene in London. This, interestingly, is what drove the entire plot and made the story relatable to me. The characters you meet are described as flawed and imperfect, and their trials will strike a chord with those also struggling to navigate through life. While the concept of communal living was not new to me, having already researched some of its extreme forms before reading this book, other readers may find it insightful.
The Predictions is ultimately about life being an experiment and the lessons that come with it. Poppy's reflections remind us that while things may be chaotic and confusing at times, you will soon discover that there is a reason for everything.
A copy of this book was provided by the publisher for review.