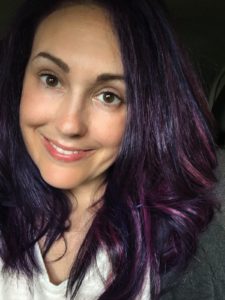 I met Maria Grace at a writers' night in a café in Cardiff, Wales. She presented her first novel, White Petals, and read out Chapter 1. I was intrigued. While the tone of the book is light, from the very beginning, the shadow of an earlier event is definitely present. White Petals follows Emmeline Rose during the three months in which her life turns upside down. As the story is told through the eyes of the 14-year-old protagonist, it deals with typical teenage issues while also looking into issues of mental health.
Emmeline gets separated from her family and sent to foster care after her mother has a breakdown. With her father dead, her sister away, and her mother taken into a mental institution, she needs to meet her new circumstances alone. Em gets thrown head first into reality yet manages to tackle her problems and in the meantime, meets people who change her outlook on life. As she is adapting to living in a care home and trying to better understand her mother's illness, she discovers that she possesses psychic abilities. While learning to manage the magic within herself, she also learns how to stand up for herself and take control of her own life.
After reading White Petals, I was interested in learning more about the story and the author behind it, so I reached out to Maria Grace with a few questions.
What inspired you to tell the story of Emmeline Rose?
The novel started out as a writing project at university, but from the moment I started writing it, I just felt this pull to continue with the story. Whenever I tried to come away from it, I would get very restless and always found myself gravitating back to this particular story. In the end, I went with my instinct and committed to the novel. When I did that, the book just kind of started writing itself, so I really wanted to finish Emmeline's story and give her and the other characters the resolution and ending that they deserved.
I wanted to show the care system (in all sectors: looked-after children, mental health, and education) in a positive light. But mainly, I wanted to write something that would combine realism and mystery in a witty and intelligent way.
Which character did you have the most fun with?
Oh, that's a good question! I would definitely say that I had the most fun with Karra, purely down to the level of sass that she has. Her cheeky humor and feistiness had me laughing out loud on many occasions, and I always looked forward to writing her scenes. But in all honesty, I fell in love with all of my characters as soon as they were birthed in my imagination.
Whom were your favorite literary heroines as a teenager and why?
I loved all different literary heroines, from Dorothy Gale to Pollyanna, Eliza Doolittle, Anne of Green Gables, Matilda, Emma and Jane Eyre. There are too many to mention!
Have you always had an interest in psychic abilities? What made you give Emmeline the gift of clairaudience?
Yes, I've always had a keen interest in psychic phenomena, spiritual awareness, and any subject that helps people to think outside of the box. I just feel strongly that there must be more to our experience here than what we can see, hear, smell, taste, and touch.
I decided to give Emmeline the gift of clairaudience because I think it's something that can be portrayed in a subtle way, as well as in a strong way. The freedom to change it up a bit and play around with the effects of clairaudience was very appealing to me. It meant that I was able to concentrate on the realism of the story as well as the psychic storyline. I wanted to create a story with a sense of realism and escapism, fun and faith, ordinary and extraordinary.
White Petals deals with issues such as care homes and the care system, mental health and the influence it can have on loved ones. How did you tap into such heavy subjects yet keep the overall tone of the book light?
I did a lot of research into the care system and the people who have experienced it. Most of the people who helped me with my research are really happy and engaging people. Their stories don't define them. Their backgrounds – as painful as some of them were – don't stop them from getting through life with a great sense of humor, strength of character, and a big smile on their face. I looked to my own life experiences, and the life experiences of others, and took the positive and cheerful from the best results on offer. I tried to use the everyday incandescence that we have as human beings and inject that into my characters and their stories so the readers could somehow relate to Emmeline and the other characters and be able to laugh along the way.
What are you working on at the moment? Are there any future projects we should keep an eye out for?
Of course! I'm just finishing my first children's book for 7-10-year-olds, and I have a little spark going off in the background for a second young adult novel with a gorgeous protagonist. We'll have to see!
Finally, what is your view on Harry Potter? Which House would you say you associate with most?
I think the Harry Potter series really helped to shape a generation. Whether you've read it or watched the films, there's no denying the magical journey the series takes you on. I've always felt that the central-trio (Harry, Hermione and Ron) were protagonists in their own stories, and I like that we get a real sense of all the characters, not just Harry.
I like the little secrets and codes between the pages: seven books, seven Horcruxes, seven players in a Quidditch team, seven Weasley children, the final installment of the Harry Potter series—released on the seventh month of 2007—on its seven-year anniversary.
I love that readers and viewers of all ages are able to sit down and read or watch the stories unfolding before them, and I love that J.K. Rowling has been able to create this wonderful multi-generational epic all through the power of her creative mind, imagination, hopes, dreams, and will. That, to me, is beautiful.
And as for which House I associate with most – Gryffindor, obviously. Who doesn't want to be in Gryffindor?
You can find out more about Maria Grace on her website http://www.mariagrace.co.uk/ or follow her on Facebook or Twitter.