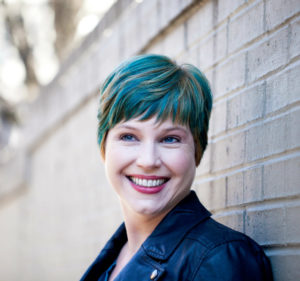 We love author Gwenda Bond's Lois Lane book series, so we were thrilled to get a chance to talk with her a little bit about her latest release, Lois Lane: Triple Threat, the state of superhero media, and much more!
We spoke to you just after Lois Lane: Fallout came out – how does it feel now that you're three books deep in the trilogy?
I have so much gratitude to all the readers and Lois Lane fans who've supported the books and are the entire reason I've gotten to write three of them. And, of course, to Capstone/Switch Press and Warner Brothers for being such a great publishing team to work with and letting me tell the Lois stories I wanted to. I hope readers are completely delighted by a certain in-person meeting that took two and a half books to get to.
How much of Lois's trajectory do you already have in your head? Did you already know what would happen in Triple Threat when you were writing Fallout, for instance? Do you know how the series will end?
When I was writing Fallout, I had no idea if there would be more books. I worked hard to design Fallout to work either way – as a standalone book and as a piece of groundwork for future stories. Once Double Down was happening, I had a chance to add a few little tweaks in last edits of Fallout that became the seeds of some of the mysteries and character arcs in Double Down and Triple Threat. We haven't discussed a fourth book, and it was very much my intention to leave things in a place that could serve as a satisfying ending for the series (but I always know what comes next). My goal all along has been that readers can look at these books and see the versions of older Lois and Clark they love best having grown out of them.
Would you ever want to see the series adapted into a television series, as so many comic book properties recently have been? Relatedly, do you watch many superhero shows? If so, what is your favorite?
Of course! I love TV (maybe too much, if that's possible!) My love of open-ended series where plot arcs come and go, but you return primarily for the world and the characters navigating them, is a huge influence on how I approach the Lois books. I have joked that I think of it as a TV series where I get to be executive producer and write every episode, and I do think it would be a timely and fresh way to explore what it means to be a hero. Lois Lane is someone we can all relate to. And all the Superman mythos lends itself to ensemble casts, as we see in Supergirl.
My husband and I watch several superhero shows, although not all at the same time; we tend to be binge and catch-up types. Our favorites are The Flash and Supergirl, though I'm also really loving Legion.
SPOILER WARNING: If you have not yet read Lois Lane: Triple Threat, the next question contains SPOILERS. BEWARE!
What was it like to finally get to write Clark Kent and Lex Luther? You've been writing them behind their screen names – as SmallvilleGuy and TheInventor – but is it different with their identities being more out in the open?
So much fun. Clark is an absolute delight to write and always has been, both as a screen name and in person. My goal in his scenes with Lois was to just share that happiness with readers. There's a lot of darkness in the world right now; I hope Triple Threat is like a big beam of sunlight and a hug for readers who need it. Writing it definitely was for me. As for Lex, or Alex as I recast him, he was fun to discover. He has many layers, and even I'm not sure which of them are real and which he just wants you to think might be. I have always preferred the mad-scientist-genius style of Lex Luthor to corrupt-business-dude Lex Luthor, so my aim was to do a slightly new take on that kind of character. He's not good or bad yet. But he definitely hears the call of the dark side, to mix metaphorical canons. At the same time, he's also very lonely, which is something both Lois and Clark can relate to.
We are now moving back into a spoiler-free zone!
What are your favorite reads of 2017 so far?
Ooh, tough! Shannon Hale's Real Friends is wonderful. I just finished Hannah Tinti's The Twelve Lives of Samuel Hawley, which I very much enjoyed. My friend Courtney Stevens has a book called Dress Codes for Small Towns out this summer that is one of my favorite things I've read ever set in the south; I want everyone to read it, read it, read it. And Angie Thomas's The Hate U Give is as good and essential as you've heard.
We have to ask…What are your thoughts on Harry Potter and the Cursed Child and/or Fantastic Beasts and Where to Find Them?
I loved Harry Potter and the Cursed Child. I wasn't sure how I would feel about it (play and all), but it was really delicious to read and obviously wonderful to see all the excitement around it. Maybe I'll get to see the production someday. I hope so! I haven't seen Fantastic Beasts yet, but this reminds me that I probably should get on that.
Thanks so much to Gwenda for taking the time to speak with us! Be sure to visit her online here or on Twitter here.