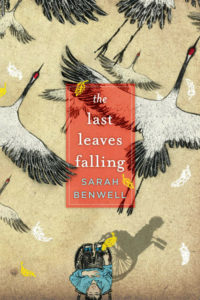 Abe Sora has ALS, and he's going to die, and soon. Unlike in many other YA novels that feature a terminally ill protagonist, there's no hope for remission or salvation. In Last Leaves Falling, Abe struggles to find a new normal in a life where he won't go to college, or play baseball, or walk, or fall in love, or…anything. Two new friends he meets in an online chatroom bring a feeling of belonging that he thought he'd lost forever, but even the joy he finds there doesn't change the fact that he hasn't got much time left.
This is a truly beautiful book. I have read many, many YA books in which one of the characters has faced the prospect of death, but none of them made me cry (no, not even The Fault in Our Stars). It's not that those books weren't sad; it's just that I have a heart of stone, I guess? Anyway. The Last Leaves Falling made me cry. So you know that author Fox Benwell* is working with some impressive emotional mojo.
How does Benwell achieve this effect? Maybe it's Sora's tender relationship with his elderly grandparents or single mother, or how he's so endearingly dignified, or how his friends Kaito and Mai are just normal teens who don't punk out when they learn that Sora is confined to a wheelchair. I also like that it's not a romance – there's so much more for Sora to mourn than the loss of a potential girlfriend. The Last Leaves Falling is a contemplation on life and death, and yeah, it's sad, so be prepared for it.
*If you're looking to buy The Last Leaves Falling, you may have to look under the name Sarah Benwell.
A copy of this book was provided by the publisher for review.