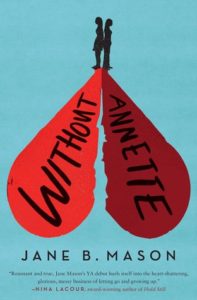 Josie can't believe that she and her girlfriend, Annette, are actually escaping their small Minnesota town (and Annette's alcoholic mother) to attend an elite boarding school in Connecticut. There, she hopes they'll be free of the stigma of small-town gossip, and that Annette will be safe from her mother's verbal and physical abuse. But from the moment they arrive, Josie feels Annette pulling away from her, attaching herself to a group of popular mean girls, and what's worse – she doesn't want to tell anyone that she's in a relationship with Josie. Just as they've finally arrived at the place where Josie hoped she and Annette could really be together, they seem to be falling apart.
Ah, I'm such a sucker for a good boarding school story, especially ones that aim to be more inclusive than your typical hetero all-male narratives. One thing I enjoyed is that Without Annette is just the latest in a whole slew of recent books that feature gay protagonists whose main problem isn't that they're gay. It's going to be a while before the novelty of that wears off. In my teen days (a distant six years ago) there weren't that many books with gay characters, and in ones that did feature them, they were almost always facing some soul-torturing crisis over their sexuality. I continue to be tickled that in a relatively short amount of time, that has changed. Hear, hear!
But that's not the only thing I loved about Without Annette. It has all of my favorite hallmarks of a good boarding school story: fierce, deep friendships, late night shenanigans, a good mystery or two, teens acting out just a bit more than they would have if they lived at home, and, of course, a bit of a love triangle. I love that Josie is never confused about her sexuality or her feelings for Annette, despite the rather cruel way that Annette is acting and the boys who are attracted to Josie's IDGAF attitude. As someone who has always been steadfast in her crushes, I appreciated a narrative where the protagonist isn't drawn to some new love interest and feels tortured over it. Instead, this feels more real – she just can't understand why Annette is acting this way.
The only thing I'm on the fence about is how heartbreaking the story is. Not for Josie, and not in an overt way (it's not one of those books that has an overtly "sad ending" like Adam Silvera's More Happy Than Not or Veronica Roth's Allegiant), but for Annette, a victim of abuse who tries and fails to escape a painful legacy. Maybe it's because I'm not a teen anymore, but reading this as an adult…my heart broke for Annette, even though she acted like a jerk a lot of the time. Even for all Josie is willing to forgive, she's still a kid herself, and is only able to help Annette so much – and it's not enough. It's poignant, in a way, but as a grown-up I'm kind of like, "CAN'T WE CALL SOCIAL SERVICES UP IN HERE OR SOMETHING?"
Anyway. That is a tangent. I enjoyed reading it, and it definitely left me with a lot to think about. I will definitely be looking out for more books by author Jane B. Mason!
A copy of this book was provided by the publisher for review.