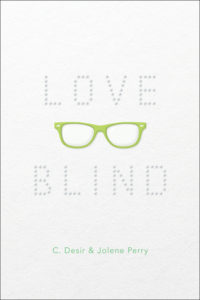 Love Blind alternates chapters between protagonists Hailey, a teenage rocker who has the eyes of a 90-year-old (according to her doctor), and Kyle, an extremely shy boy who works the sound board at his high school's radio station and has a troubled home life. Kyle is attracted to Hailey right from the start, and Hailey sees something in Kyle that suggests he would make a really great friend. She recruits him to tackle a "fear list" with her – a list where each of them write down their greatest fears and face them, one by one.
Love Blind is an ambitious story that didn't quite hit the mark for me. Spanning three years of these characters' lives, from the time Kyle is a junior in high school to when he's a freshman in college, there's no real thread that ties everything together besides the tenuous "fear list," which seems to fade in and out of prominence as the narrative requires. At certain points, it's talked about as the most important thing ever. At other points, it barely seems to matter at all.
The book didn't feel cohesive, and I was constantly struck by the weirdness of Hailey being seemingly unable to understand or think about anyone besides herself. Her moments of empathy are few and far between, and she never seems to learn any better, besides a large number of misunderstandings that occur because of this along the way. Maybe this just felt so weird because Kyle seems to always be thinking of other people? I don't know, but something about this book just didn't click for me. By the end, I didn't really care what happened to the characters one way or another.
There are some things about Love Blind that others might enjoy, even if they weren't enough to make me like the book. It's pretty cool that Hailey is a rocker chick, playing shows in clubs and leading her own band. Teens might enjoy her wilder antics, such as her relationship with the five-years-older Chaz, and the structure that I found meandering and unfocused might appeal to readers who are tired of YA books in which all the action takes places in just a few months – sometimes you just want to know what happens to characters without having to read twelve sequels. There are a few funny parts, and Kyle's best friend, Pavel – a weird, wise-cracking Russian who's had troubles of his own – is the best part of the whole book (I kind of wish it had been about him instead).
A copy of this book was provided by the publisher for review.