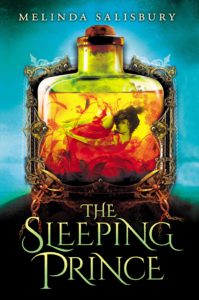 We were big fans of Melinda Salisbury's first novel, The Sin Eater's Daughter, and after a long year of waiting, the sequel is finally here!
The first thing I noticed when I eagerly dove into The Sleeping Prince is that Twylla, Lief, and Merek are nowhere to be found, which is a dastardly thing for Salisbury to do after the ending of the last book. (Actually, if we're being honest, the first thing I noticed about the book is that Salisbury's dedication mentions having opening day tickets to see Harry Potter and the Cursed Child, which made me (a) feel camaraderie that the author is also a fan, and (b) full of rage and jealousy. Full disclosure.)
Anyway. Yes, many readers will doubtlessly be disappointed that Salisbury has switched up her POV character, but I guarantee the disappointment won't last long. Instead of the old gang, The Sleeping Prince features Errin, Lief's sister, as its focalizing character. Desperately poor, left alone to care for her mysteriously ill mother, not knowing if Lief is alive or dead, and living in a hut that's directly in the path of the Sleeping Prince's conquering army? Errin has got a lot on her plate, to say the least. She has to not only protect her mother, but also find a way to escape. The only person she has to turn to is her mysterious "friend" Silas, who has always been kind to her but won't reveal his face or true identity…
I, too, was skeptical when I realized that I wouldn't immediately find out what was happening to Twylla. It was disorienting, and it took me a few pages to start to care about the story again – always a risk when you switch up lead characters. But it wasn't long before I realized that I actually liked Errin a lot better than Twylla anyway, perhaps only because – free of controlling government officials – Errin just has a lot more agency. I was also intrigued by Errin's apothecary skills; I'm a sucker for girls and potions, I guess.
And, never fear, you will discover the fates of Twylla, Lief, and Merek before the book is over. When Twylla does reappear, I found I liked her all the better for the time she spent out of the reader's sight. She's more sure of herself and her purpose than in the first book, and more ready to take action. I'm really looking forward to the next book, where (hopefully) I'll get to have more of both Errin and Twylla – I can't wait to see what happens next!
A copy of this book was provided by the publisher for review.