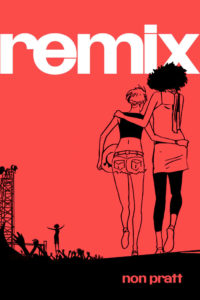 Best friends Kaz and Ruby should be in for the weekend of their lives – they're off to the Remix music festival! Not only will they get to see their favorite band perform live, they'll also have the chance to finally get over their respective exes and get some partying in before the summer's over. Too bad both of their exes will also be at the festival…
Remix is filled with juicy drama right from the very beginning. Kaz never got over breaking up with her childhood sweetheart, Tom, and secretly hopes that their romance will be rekindled during a bacchanalian weekend at Remix. Ruby closed her heart to her ex, Stu, after he cheated on her, and she is on the prowl for someone new – but he won't leave her alone. The chaotic, messy, euphoric swirl of a three-day music festival is the prime atmosphere for testing the bonds of friendship and love.
I found the whole thing to be a compelling read – the amount of tension and betrayal author Non Pratt manages to cram into a relatively short novel is truly impressive. Even as I was closing in on five or ten pages left, the curveballs were still coming fast and hard. At the same time, Remix is a book with a lot of heart, as I found myself 100% invested in more than one of the book's dizzying relationships (especially Ruby and Stu).
If you liked the television show Skins – or British teen debauchery in general – you'll find Remix an entertaining summer read!
A copy of this book was provided by the publisher for review.