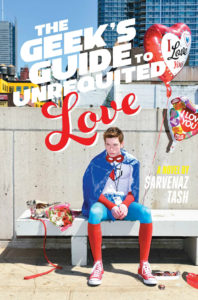 Graham and his best friend, Roxy, are nerds. Uber nerds. Together, they obsess about Harry Potter, video games, and comics – especially their favorite series, The Althena Chronicles. When the reclusive creator of Althena announces that he's appearing at New York Comic Con, Graham knows he and Roxy have to go – and that it's the perfect place to tell her that he loves her.
I'm willing to admit that this might be a book for a niche audience, but I am unable to speak with any authority because I am nestled securely within that niche. A six-year veteran of New York Comic Con, I was 100% prepared for a YA novel that takes place at the convention. Indeed, a big part of the fun is recognizing that author Sarvenaz Tash got the experience of going to that convention exactly right. (Well, almost. The characters have a suspiciously easy time finding bathrooms.) If you've ever been to NYCC or another big convention, you know that it is both physically and emotionally draining. You're surrounded by things you love, and other people who love them too. At the same time, you panic about making it to the panels and signings for the things you love, and hanging out with like-minded people becomes a lot more stressful when there are 100,000 of them and you all want the same panel wristband. It's a weird, intense experience, and really pretty perfect for the setting of a YA novel.
Beyond that, Tash also manages to hit a lot of sweet notes in depicting the relationship between Graham and Roxy, as well as the dynamic between the pair and their friends Felicia, Casey, Amelia, and Devin. As a fan myself, I found it almost as exciting as the characters when they got the chance to get something autographed or attend a panel with a writer they admire – I can imagine how exciting that would be. And as fandom is as often a community as it is a pastime, the typical teen interactions of attraction/friendship/jealousy fit right into the high stakes of the convention. What's more, the book doesn't feel gimmicky or false, like someone trying to take advantage of how mainstream nerd culture has become in recent years. Tash writes with the eye of someone who has lived this experience, rather than someone observing it from the outside. A fun summer read for anyone who cosplays or has a collection of action figures (or both)!
A copy of this book was provided by the publisher for review.