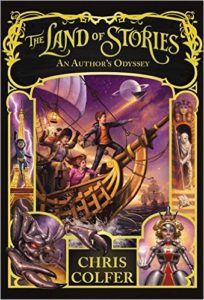 The fifth book in Chris Colfer's magical #1 New York Times bestselling Land of Stories series takes you on An Author's Odyssey! Fifteen-year-old Conner Bailey must venture into his own short stories to recruit help saving the fairy tale world and all who live there. With the aid of his twin sister, Alex, he encounters pirates, cyborgs, superheroes, and more. However, it's a race against time, as the Masked Man and other dark forces are moving to destroy everyone and everything in the fairy tale world, and the villains have no qualms turning on each other to claim power. An Author's Odyssey is a tour de force of the imagination, with a wonderful message about writing and the power of creativity, in a series that is perfect for fans of tales with a twist.
In the highly anticipated continuation of the "Land of Stories" series, Conner learns that the only place to fight the Masked Man's literary army is *inside his own short stories!* When the twins and their friends enter worlds crafted from Conner's imagination, finding allies no one else could have ever dreamed of, the race begins to put an end to the Masked Man's reign of terror. Can the twins finally restore peace in the fairy tale world?
In the penultimate book in the series, Colfer is having a lot of fun throwing hurdles into the path of his twin protagonists and setting up what is sure to be a nail-biting final battle. In An Author's Odyssey, we get to know Conner a little better by venturing inside his own mind. What we get is a lovely rumination on childhood influences, seeing inspirations from life entering into the fictional world, and a reflection on the dynamics of family. It has all the brilliant humor of the previous books in the series, with a nice layer of meta commentary (even if Alex hates that word!)
With the world dealing with a lot of darkness this year, Colfer's books are the perfect antidote, delighting readers with the silly and larger-than-life characters. The short stories that we enter play gloriously with tropes and read very much like a young boy's first forays into experimenting with imagination. They're filled to the brim with puns, cameos, and adventure. My favorite narrative is that of the Ziblings, a family of superheroes with a youngest brother who is yet to come into his own. This tale has a really lovely reflection on sibling relationships, and Alex's reactions to seeing her brother through the eyes of the world he created are clever and nuanced as well as heartfelt.
Add to this a band of female pirates, a cyborg collector Queen, a young archaeologist who travels by blimp and the colliding of worlds — there's no rest for the wicked with the twins on their case.
There are lots of opportunities to reconnect with the large cast of the previous books, with the kings, queens, and other fairy tale characters seeking safe harbor in the Otherworld, at home with the twins' mother, Charlotte. Seeing Red, Goldilocks, and Jack deal with this brand new world and a host of characters from Conner's stories who look…vaguely familiar…is a wonderful comedic touch amidst the peril they're in. There's also a brilliant nod to amateur theatrics when the characters have to put on a show to avoid detection.
Colfer also touches on that age-old question of how parents really feel seeing their children head off into the inevitable danger of a story world. When so often the parents are taken out of the narrative for the sake of allowing young children to go save the day unchecked, Charlotte's frustration, loneliness, and worry about missing her children are a refreshing take on the practice. I laughed out loud at the way she gets her very motherly revenge for being so routinely abandoned by Conner and Alex as they head off on adventures.
As the fan following for the series has grown, so has their inclusion in the books, and An Author's Odyssey sees the return of the schoolgirl conspiracy theorists/detectives the Book Huggers. When their attempts to move on from their obsession with the Bailey twins by actually reading a book fails, they get swept up in trying to understand who exactly are the odd people showing up at their ex-schoolmates' homes. I love this little collection of shy, obsessive oddbods and the affectionate teasing that follows their futile attempts to uncover the secrets.
The main theme of An Author's Odyssey is an inspiring message about having a go at writing yourself, and Colfer encourages his readers to get creative and be the masters of their own stories. It's a joy to see the young protagonists come into their own, and teachers will have lots of fun sharing the ideas with kids and seeing what they come up with themselves. It's a masterclass in writing in different genres and prompts, with lots of supportive messages about self-confidence along the way.
A must read for fans of the series, with a wonderful meta twist! Book 5 is a confident continuation that shows the potential of Book 1 developing into a wonderful and much-loved epic fantasy adventure. Creative, hilarious, inspiring, and enjoyable, this brand new adventure will keep you giggling throughout. I loved learning more about what goes on in the characters' heads, and each brilliantly zany adventure adds to the delight. The Land of Stories: An Author's Odyssey has shocks, twists, and revelations that will leave you eagerly anticipating what is sure to be a truly explosive and magical conclusion.
Keep an eye out for A Treasure of Classic Fairy Tales coming from Colfer this autumn, with an introduction from a familiar face in the Land of Stories world.
A copy of this book was provided by the publisher for review.