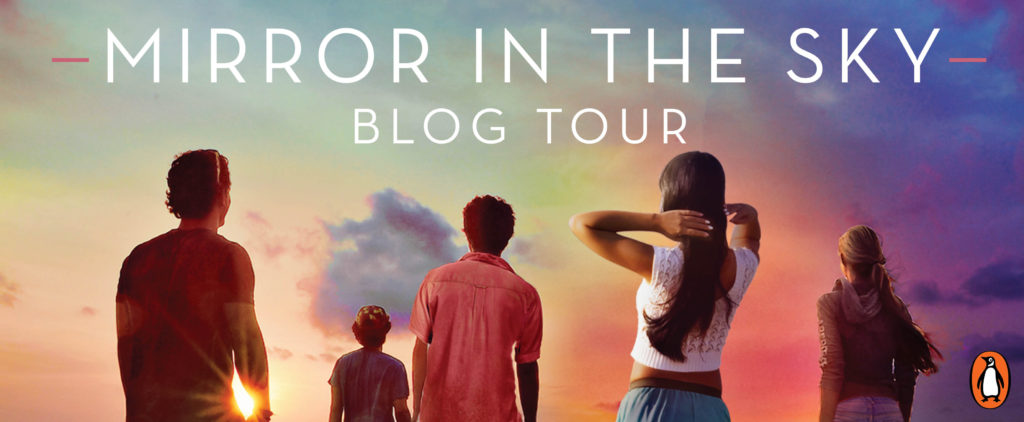 Aditi Khorana, author of Mirror in the Sky (which we loved!), has stopped by on her blog tour to share with our readers the story of her path to publication. Read on to find out more!
In 2012, I quit my job, started a freelance consulting business moderating focus groups for Hollywood studios, and began work on a novel that had been in my head for many years. A year and a half later, I was close to broke, single for the first time in a decade, living out of a tiny sublet with all my belongings in storage, and had queried 80 agents, none of whom wanted to sign me.
Despondent and feeling like a failure, I spent many a night on my couch, wrapped up in a blanket, watching Cosmos on TV and crying my eyes out. Around this time, a friend sent me Dear Sugar's Ghost Ship column, and it inspired me to think about all the paths I hadn't taken, all the lives I could be living. At first, this was kind of depressing because every other option, every other life I could have been living seemed way better than where I was right at that moment. But thinking about the possibilities, and about the various other versions of myself, inspired me to write Mirror in the Sky.
I wrote it in a short span of time – a little over three months. I wrote it for myself and my friends, and didn't really have any expectations for its publication. As I revised the novel, I was simultaneously interviewing for a job at a Hollywood studio as a researcher. On a whim, I sent out a couple of query letters, and within an hour, had my first request for the manuscript. Within 48 hours, I had an offer of representation. Two weeks later, I had over half a dozen.
I signed with Jenny Bent, and after a round of edits, Jenny sent the manuscript to various publishing houses. There was a fair amount of interest, but also some hesitation from a few editors – they wanted to "gentrify" the book, and it couldn't easily be categorized. Was it YA or adult lit? Was it contemporary or sci-fi or speculative? In the end, the editor who really got the book (and got me) was Jessica Almon at Razorbill. We talked on the phone for over two hours about space and time and philosophy and race and class and growing up and college (we both attended the same one). I got off the phone and knew I had found the editor I wanted to work with.
I'm really amazed at how this book has found its way in the world. It's found itself the best advocates and supporters an author could ask for. I've been very lucky to have found a fantastic publishing home for MITS at Razorbill Books and I can't wait to work with them on my next novel, which is out in 2017!