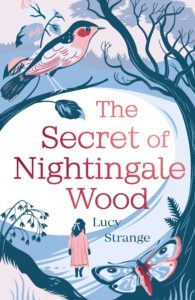 Something terrible has happened to the Abbott family, a tragic secret from the recent past that has torn them apart. It's up to Henry (Henrietta) to figure out what the mysterious interfering Doctor Hardy is planning to do and use her wits to reunite her parents. Lucy Strange's modern take on a classic children's literary narrative is reminiscent of The Little Princess, Tom's Midnight Garden, and The Children of Green Knowe. It explores the powerful influence of imagination in coping with heartbreak, with absentee parents and a trip through the wood at the end of the garden full of songs, stories, poetry, fairy tales, and a witch in a caravan. It's a magical, lyrical mystery-adventure.
1919. Mama is ill. Father has taken a job abroad. Nanny Jane is too busy to pay any attention to Henrietta and the things she sees – or thinks she sees – in the shadows of their new home, Hope House. All alone, with only stories for company, Henry discovers that Hope House is full of strange secrets: a forgotten attic, ghostly figures, mysterious firelight that flickers in the trees beyond the garden. One night she ventures into the darkness of Nightingale Wood. What she finds there will change her whole world …
At the heart of the book is the character of Henry, whose guilt plagues her and haunts her thoughts so much that she blocks out her pain with flights of the imagination and nightingale song. But it soon becomes apparent that Henry sees the world with a clarity that allows her to discover secrets overlooked by the adults who are blinkered in expectation. She maintains contact with her brother, discovers a witch in the woods, and outwits the adults who think they know best.
Strange's most intriguing character is Moth, a wild woman who seems to live hidden away from the world. With a glimpse at a photograph, we get some hints at her past, her healing nature, and the connection to Hope House that has been overlooked for some years. She has also suffered tragedy, but time and distance have allowed her the space to listen, and her friendship with Henry proves to be all important for both of them.
The character of Nanny is an infuriating presence at first, her role seemingly to get in Henry's way, deprive her of access to her mother, and follow blindly after the sinister Doctor Hardy. You may end up growling as you so desperately want her to take some initiative and develop a backbone. However, she is in an impossible place, taking orders from an absentee master and dealing with the pressure of an obstinate and insistent doctor who lords his position as a sense of power. "Doctor knows best," after all. This proves most untrue when Hardy and his wife's interference leads to a family split that pushes Henry over the edge into desperation. Strange summons her stern, dismissive, and cruel-in-his-supposed-kindness doctor as a decidedly unpleasant sticking point in her young protagonist's desire to reunite her family.
Added to this difficult dynamic is an absentee father, who has abandoned Henry and her little sister in his own grief. Unable to cope, he is contactable only via letter, and these must see their way past Nanny to reach him. Strange explores a little into the way gender roles played throughout history and the negative impact of maintaining a stiff upper lip.
The mystery at the heart of the book is the reason for everything unravelling: whether or not Mama is truly unwell. What could be an easy vilification of medication and mental health professionals is cleverly turned on its head. The result is a touching, sensitive portrayal of grief and the pain of trauma, as experienced through the eyes of both parent and child.
I very much enjoyed this story, a beautiful allegorical fairy tale on grief, family secrets, and unlikely friendship. The race and struggle for Henry to help her mother is incredibly touching and will have you on the edge of your seat wishing her success.
With plenty of fairy tale imagery, intriguing shady figures, and a beautiful story of a family rediscovering their bond, there's lots to discuss and discover in this sweet and deceptively simple read. The Secret of Nightingale Wood is a modern classic on timeless themes of maintaining hope. It is a book for everyone with an imaginary friend, a ghost in the garden, and a wish to understand just what is going on in the mysterious adult world.
A copy of this book was provided by the publisher for review.