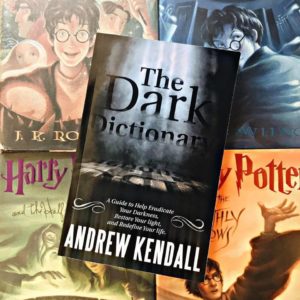 The Dark Dictionary by Andrew Kendall, a recently published self-help book about the power of words and how to use words to change your outlook on life, is truly one of a kind. While I have read my fair share of self-help books, this one stands out. 

The biggest difference is that the book is written by someone my age. I often feel like self-help books are written by older people who have lived more than I have and are judging me and my choices – although I am well aware this is not their intent. Even as I read The Dark Dictionary, there were times when I felt very defensive. But the things that made me feel defensive were also the things that made me sit down and think about why I was feeling that way. They were things that are true.

The next thing that stood out to me was the format. There was a clear line between the chapters about his life and the dictionary, and I felt like that was really important. The change in format made the dictionary itself stand out – and it did his words justice.

Which brings me to my next point.

Words are important. As Dumbledore said, "Words are, in my not-so-humble opinion, our most inexhaustible source of magic." They aren't just clusters of sounds and symbols we use to communicate. Words can take on any number of meanings with the right – or wrong – emphasis or context. This book lays that exact point out beautifully.

Andrew Kendall is wise beyond his years, and reading about his ongoing journey is very special. There's a lot to be learned from this book – about life, about words, about circumstance. About myself. It is definitely a book that will be kept close to my heart and revisited often.
In his author bio, Kendall mentions that he was inspired at a young age by J.K. Rowling. He says that he "vowed to one day become an author himself in hopes that his words would inspire the lives of those around him." By publishing this book, he fulfilled this dream – and showed aspiring writers that they are capable of doing the very same thing.
I would recommend this book to readers who are curious about or interested in self-help books but don't want something heavy or overwhelming. In a way, it's a self-help book for beginners. I can only hope that more books like this follow.

Note: While I am friends with Andrew, our relationship in no way influenced any part of this review.