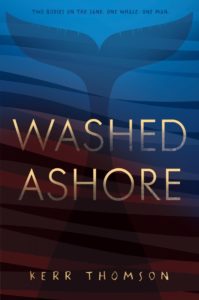 One fateful summer, fate convenes a ragtag group of people together on the remote Scottish island of Nin: locals Fraser and his eccentric younger brother, Dunny; Haley, a rebellious American girl; Ben McCaig, a scientist who studies whales; and the mysterious man who seems to be hiding in one of the island's caves. As the summer goes on, Fraser and Haley begin to unravel the forces that brought them all to Nin in this contemporary middle-grade adventure.
For whatever reason, I had a really hard time getting into Washed Ashore. I wouldn't call it a bad book, but it did have a tough time grabbing my attention. Nonetheless, I think it could still be a fun read for the right kind of reader.
One of the major threads running through the novel is the whales that live in the waters around the island, and Washed Ashore explores a number of different perspectives on whale life and research: Fraser serves as Ben's assistant, Dunny seems to have a special affinity for whales, and whales seem almost supernaturally connected to Jonah, the refugee who washes up on Nin's shores. If you know a third or fourth grader who usually prefers to read nonfiction books about animals to novels, this book could be a good way to coax them into reading fiction.
I think Washed Ashore might just be one of those children's books that has a hard time transitioning to adult readers. I found that I didn't like any of the main characters that much, and the action unfolded a little too slowly for my taste. If this book's description grabs your attention, try checking it out of the library to see if it's more your style than mine.
A copy of this book was provided by the publisher for review.