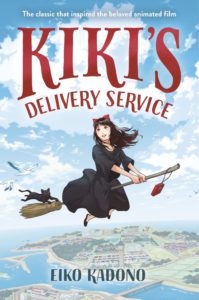 Kiki's Delivery Service is known by many as a Miyazaki classic, but few have read the 1985 novel by Eiko Kadono on which the film is based. Now, a new English translation by Emily Balistrieri is making Kiki's story available to a whole new generation of readers. The story is by now well-known: 13-year-old Kiki has just come of age as a witch, meaning it's time for her to leave home and find a community of her own to serve. Along with her black cat companion, Jiji, Kiki moves to the seaside village of Koriko, where she has to make a life for herself using just her ability to fly on a broomstick. She soon hits upon the idea of starting a delivery business – magical adventures ensue.
Kiki's Delivery Service is refreshingly light and breezy in an era where many middle-grade fantasies have become elaborate operations. There's certainly nothing wrong with that (and, indeed, some readers more used to that type of fare may find the minimal worldbuilding in Kiki a bit disappointing), but there is definitely something to be said for the gentleness of this book in a year that has seen surprisingly little of it. While the protagonist is 13, the reading level of this story is probably more appropriate for younger readers and would also make a great read-aloud, even for those who aren't reading on their own quite yet.
Fans of the movie will find that the tone of the novel is definitely of a piece with its cinematic sibling. Each chapter features a quirky new challenge for Kiki (like rescuing musical instruments from an express train in time for a spring concert, or fixing the town clock just in time for the town's traditional New Year's run), which she solves with a little ingenuity, luck, and positivity.
If anything, the movie raises the stakes of Kadono's story, which otherwise proceeds episodically throughout Kiki's first year away from home. There is more emphasis on her relationship with her mother, also a witch, in the novel, though it was a little bemusing to read about such a young woman chafing under her mother's influence (and the level of the book makes her seem even younger). All in all, I found the novel to be a fun, quick read that young readers looking for a little enchantment will devour.
A copy of this book was provided by the publisher for review.