In our first Author Takeover of 2018, we are joined by the New York Times–bestselling author of How to Hang a Witch, Adriana Mather. A spellbinding story of witchcraft, ghosts, and a destructive age-old curse, How to Hang a Witch was partially inspired by Adriana's own family history. It's a gripping young adult read that anyone who has a fascination with the history of witchcraft, bloodlines, and age-old responsibilities will race through to the jaw-dropping conclusion.
As soon as Sam arrives in the historic city of Salem, mysterious deaths begin to occur and the coincidence does not go unnoticed. The Descendants of the persecuted witches certainly make sure Sam knows just how unwelcome she is when it soon becomes clear that there is a curse surrounding Sam and Salem itself. With the help of a gorgeous but somewhat standoffish ghost, Sam battles against time to break the curse that haunts her family. Can Sam stop history from repeating itself before it's too late?
Not a Witch in the Family
I've always known a great deal about my family history – that we came to America on the Mayflower, survived the Titanic, and lived in Sleepy Hollow. But nothing tops the infamy of my ancestor Cotton Mather, who instigated the Salem Witch Trials, which is what inspired me to craft fictional books about witches in the first place. In HOW TO HANG A WITCH, I explore that piece of my family's history and bring it into present day with a dose of magic and a good old-fashioned mystery. Throw in a handsome ghost, some spiced apple cider, and some gothic teen witches à la The Craft, and I was typing with reckless abandon.
I'm completely biased, but witches are some of the coolest characters on the block. They're the heroes and the villains. They're the hunter and the hunted. And they provide a broad range of ways of being that subvert the typical archetypes. A witch isn't defined by her relationships, her family, or her status because she derives her power from within. She's her own person, and if she doesn't like you, she'll turn you into something slimy.
It was fascinating writing a story that centered around modern magical witches and juxtaposing them with the ghosts of persecuted witches from the 17th century. It got me thinking how drastically perspectives have changed, and not always in the ways we expect. My ancestor Cotton Mather studied witches to the point of obsession. He read texts that described how to identify witches and how to eliminate them. And at the time, the belief in witches and magic was non-negotiable – if you said you didn't believe, it was the basic equivalent to not believing in religion, which was a historical no-no. Now in modern times, people have no obligation to believe in magic, and conversely witches have become some of the most beloved characters in literature.
I'm not entirely certain what caused such a dramatic shift in perspectives, but I am certain that I'm grateful for this modern celebrated witch. Now I make it a point to go to Salem several times a year, shop in stores that sell potions and spell-books, and enjoy the houses painted all in black. I know my way around so well now that I could have a career as a tour guide. Buuut, even I avoid the graveyards in the dark… because you just never know.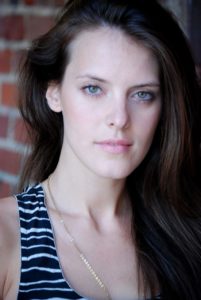 Adriana Mather is an author, actress, and co-owner of a film production company. She is the 12th generation of Mathers in America. As a genuine descendent of Cotton Mather, one of the men responsible for the gruesome Salem Witch Trials of 1692, she was inspired by her ancestry to write her debut novel, How to Hang a Witch.
And if that still hasn't got you hooked, check out this book trailer!