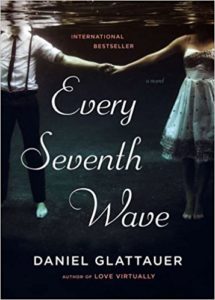 It all started innocently: an email sent to the wrong address, an "I" before an "E" where it shouldn't have been. What followed was a friendship, then romance of sorts. Every Seventh Wave is the follow-up book to Love Virtually, in which Emmi Rothner mistakenly emails Leo Leike and things take off from there.
I previously reviewed the first book in this duology, Love Virtually. You can read that review here. I recommend you read the first book first, as it follows the cliffhanger that the first book ended on. Of course, I still think the first book can stand on its own and the open ending is still a fitting conclusion. However, I definitely loved Every Seventh Wave just as much!
Both books have a non-traditional format in that they are written in the form of emails. We see only what Emmi and Leo are writing back and forth between each other. While this may seem a bit dated for today's generation, I think it holds up pretty well. The characters themselves are in their mid-30s, so it makes sense that they'd be using email often for their jobs. While I enjoy books with descriptive text of the setting and characters, I also enjoy books like this, which are dialogue based. The emails have timestamps to mark the timeline, but it has a pretty quick pace. It is definitely a page-turner, and while there are chapter numbers, I didn't really see that as necessary. I breezed right through, wanting to know what was going to happen between the two main characters.
This book picks up right where Love Virtually dropped off. Emmi decided not to meet up with Leo, and Leo cut off contact with her and moved to Boston. After months of receiving failed delivery notifications, Emmi finally received a reply from Leo, who has moved back to England. The two rekindle their connection, but at the same time, they've both had a lot going on in their lives in the meantime that has changed their relationship. Leo has met an American woman who is hoping to move to England to be with him, and Emmi has patched up her relationship with her husband. They have to decide what they do now and how their relationship continues, if it continues at all.
Love Virtually, as well as this book, was adapted for radio and aired on BBC Radio a few years ago with David Tennant voicing Leo Leike and Emilia Fox voicing Emmi Rothner. The production quality was superb. I'm a big fan of audio dramas over traditional audiobooks. I enjoy the music and sound effects, which add something extra to a straightforward reading. Tennant and Fox put a lot of emotion into their roles, and the characters really come to life. You feel their emotion and heartbreak and love.
I highly recommend checking out both of Glattauer's books if you like romance and romantic comedies. These two characters have such a great meet-cute and a heart-wrenching, drama-filled story that will leave you wishing there were more than just two books. I'd love to see more texts done in this format; Glattauer took a big risk, but it really paid off and made for an enjoyable read!
Interested? Get a copy here!