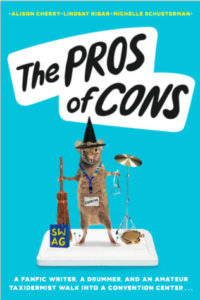 Vanessa, Phoebe, and Callie are all in Orlando for different reasons. Vanessa, a fanfiction writer, is attending the We Treasure Fandom convention, nervously awaiting meeting her online girlfriend for the first time. Phoebe is on a school trip with her percussion ensemble, competing against some of the best high school groups in the nation. Callie is there with her dad as part of a professional taxidermy gathering. The only thing they have in common – at first – is that all three events are held at the same Orlando convention center, but once their paths cross, all three girls are in for an unforgettable week.
First, obviously, there's a lot here to love for the die-hard Harry Potter fan. Who among us hasn't spent a surreal weekend in Orlando geeking out over our favorite fandoms, staying up too late, and forming fast friendships with people who were strangers 48 hours ago? Vanessa's experiences in particular are sure to resonate with many loyal MuggleNet readers, even though Potter isn't the series she writes fanfiction about. And even if Phoebe and Callie are in Orlando to attend different conventions, all three girls acknowledge the awesomeness of Harry Potter (duh). It won't take you long to spot the first (of many) references to a particularly awesome Boggart Snape costume.
I should add that, as a recovering band kid, I also really enjoyed Phoebe's sections (the book is told in alternating chapters). I always thought band kid shenanigans were a goldmine for YA stories and lo!, Michelle Schusterman – who writes Phoebe's chapters – has proven me right. And even if I can't personally connect to Callie's in-depth knowledge of taxidermy, I still loved getting a glimpse into her world. The novel's three authors manage to blend the stories of all three girls together to make one hilarious, heartfelt novel. It was a fun and satisfying read that really resonated with some of my fondest teenage experiences.
The Pros of Cons also features a legendary takedown of a mean fan, a super cute gender-neutral love interest, amorous taxidermy, and some seriously hardcore xylophone playing. Highly recommended.
A copy of this book was provided by the publisher for review.