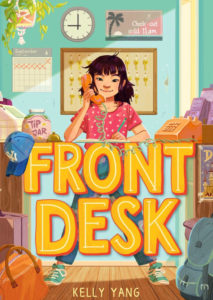 Ever since ten-year-old Mia Tang's parents immigrated to the United States from China, they've been trying to find steady work. When they get the chance to run the Calivista Motel in California, the Tang family thinks they've found their big break. That is, until they learn that the Motel's owner, Mr. Yao, is a mean, selfish miser who treats them anything but fairly. Still, it's the best opportunity the Tangs have for a better life. To help out, Mia works at the front desk when she's not in school, and her year at the hotel is set to be one of the most memorable of her life.
I was absolutely charmed by Kelly Yang's Front Desk, an account of a young immigrant's experiences that manages to be powerful, moving, adorable, and rebellious all at the same time. There are a lot of moving parts in this middle-grade novel that make it work so well – the Tang family's bold decision to hide other Chinese immigrants in the Calivista, Mia's experiences at school, her rivalry with Mr. Yao's son Jason, her aspiration to be a writer (despite her mother's doubts about her ability to learn English well enough to do so), and her relationship with the motel's permanent residents, especially Hank, an African-American man discriminated against by both the police and Mr. Yao because of his race.
Finding it hard to believe that all this could fit into one 286-page novel for 8- to 12-year-olds? Believe it! Yang makes all this and more fit together so well it looks effortless. Front Desk testifies to the difficult experiences of Chinese immigrants in the United States in the early 1990s, including strained relationships with family members back home, teasing at school, and the difficulties of learning English as a second language.
At the same time, Front Desk is attentive to issues of discrimination against black people not only by white people but also by some members of the Asian and immigrant communities. This nuanced perspective on how race happens in America is rarely found in children's books, and it is even more uncommon to see it done so well. The novel is informed by Yang's own early life, but not just anyone could translate their experience into such a perfectly balanced book. Classrooms and school libraries should definitely all have a copy on hand.
A copy of this book was provided by the publisher for review.