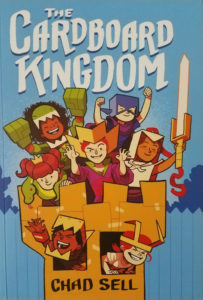 In this graphic novel, a series of interconnected vignettes chronicles a summer of imagination and friendship that begins as a group of neighborhood children are drawn, one by one, into a massive game of pretend. The children come from a variety of backgrounds and home situations, but the Cardboard Kingdom has a place for them all, whether they be a knight, sorcerer, entrepreneur, robot, or fearsome beast.
I really enjoyed this book, which arrives just in time to be the perfect summer read for children on school vacation. First and foremost, it's a celebration of imagination – watching the kids of the Cardboard Kingdom create costumes, conjure monsters, and even set up a potion stand or tavern made me long for the immersive games of make-believe I would play with neighborhood kids as a child. I mean, I guess we're all longing for that all the time, in some way, but The Cardboard Kingdom has a way of bringing it back to you, even if only for a little while.
To play make-believe with someone is an endeavor of trust – trust that they won't laugh at you and that they'll believe in you even when you put your greatest ideas, desires, and fears on display. The idea of trust runs through all the short graphic narratives presented here, as children deal with family strife, gender identity, cultural differences, and all the other small battles that are a part of growing up. What's so great about The Cardboard Kingdom is that all of these issues are made part of the everyday backdrop of the neighborhood – present and important, but never reducing the children who experience them to the issues they face. It's entertaining and heartwarming and is guaranteed to have you itching to see if your friends are up for building a cardboard kingdom of your own.
Chad Sell is the creator and illustrator behind The Cardboard Kingdom, which also features writing from a full slate of collaborators: Jay Fuller, David DeMeo, Katie Schenkel, Kris Moore, Molly Muldoon, Vid Alliger, Manuel Betancourt, Michael Cole, Cloud Jacobs, and Barbara Perez Marquez.
A copy of this book was provided by the publisher for review.