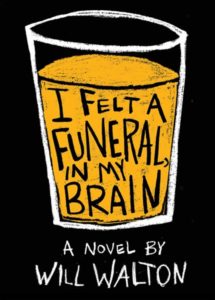 Avery discovers a love for poetry – Emily Dickinson, Sylvia Plath, Anne Sexton, and others – right before the end of the school year. As it turns out, he's going to need it to navigate the next several months of pain, grief, and first love. Written largely in verse, I Felt a Funeral, in My Brain is as much a story of artistic awakening as it is a chronicle of Avery's attempts to cope with his troubled family dynamics.
As I was reading this novel, I got the feeling that it would be a very special book for a very particular group of people – probably those who, like Avery, are just falling in love with poetry for the first time or remembering the time when they did. For me, it didn't really come across. I felt that Walton's characterizations of the poets he references were too glib and cliché, and that both Walton and Avery romanticized the idea of the troubled poet/artist, a dangerous tendency which is stubbornly persistent in our society.
Novels in verse are also hard because, in addition to getting your readers to care about your characters and what happens to them, you also have to hook them with your poetry. And as I'm sure Avery's English teacher, Ms. Poss, knows, hooking the 21st-century reading public on poetry is not an easy thing to do. There were one or two times when I found Avery's/Walton's verse really striking – electric lines that stood out from the rest. The rest of the time, it didn't click for me; I was just reading through it to find out what happened next.
Even so, there are definitely things I enjoyed about this book. Like Will Walton's previous novel, Anything Could Happen, this book is loaded with pop music lyrics and references, which add a lightness to what could be a rather dark story. Controlling the dynamism of a pop song whose catchy melody and independent associations will immediately pop into your readers' heads is not an easy thing to do, and Walton seems to have mastered it effortlessly.
As I said before, I also feel strongly that this book is going to connect with certain readers in a very special way. I Felt a Funeral, in My Brain, in addition to being largely in verse, is also told in a non-linear way, which means that you aren't necessarily going to be kept reading by the same motivations you get in a "standard" novel – plot, character development, et cetera. In fact, this book felt like it was more about a type than a person – the type that is taking themselves seriously as an artist for the first time. If you are, or you know, a teen who has just discovered the poetry section at your local bookstore, you may want to give this book a try.
A copy of this book was provided by the publisher, Scholastic, for review.