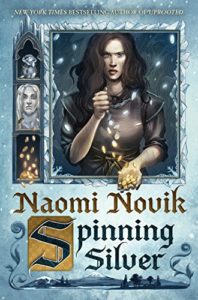 Fans of Naomi Novik's standalone novel Uprooted or her Temeraire series have been anxiously awaiting her newest novel, Spinning Silver, and I can confirm that it is more than worth the wait! As an FYI – because I was initially a little confused – although the cover of the book bears a similar design to Uprooted, Spinning Silver is not the continuation of Agnieszka's story, though the story does have fairy tale origins, just like Uprooted.
Spinning Silver interweaves the narratives of three women – Miryem, the ambitious daughter of a money lender; Wanda, a hard-working girl beset by her controlling father; and Irina, the daughter of a local duke. After Miryem takes over her father's failing business, her family and neighbors are shocked at her efficient ruthlessness in collecting outstanding debts. Miryem quickly brings her family back from the brink of destitution, but word of her success spreads a little too far when it catches the ear of the otherworldly Staryk, fae-like creatures of ice straight from the nightmares of children. In short, this is a Rumpelstiltskin re-imagining that you won't soon forget.
As I've already hinted, I'm a big fan of Spinning Silver – it was nothing less than enchanting. I've always been a sucker for novels that mine folklore and fairy tales for inspiration, but Novik has a special knack for it. In fact, it only took me a few pages to realize that – Rumpelstiltskin aside – I have never read anything like this before. It definitely stands among the novels of Patricia McKillip as some of the best I have read in the genre. Novik has crafted a tight and compelling plot and dexterously twirls from narrator to narrator to move the story forward, like some kind of masterful relay race.
I also loved that way that women were the locus of everything that happened in Spinning Silver. Novik doesn't mind throwing in a handsome man or two, but it is undoubtedly Miryem, Wanda, and Irina – and their relationships with their families – that take center stage here. It's a nice change for a book to focus on other kinds of love besides romance, and what they mean to our lives.
My recommendation is to get your hands on a copy of this book as soon as possible!
A copy of this book was provided by the publisher for review.