We are delighted to reveal the stunning UK cover of a brand new YA contemporary fantasy by debut author Christine Lynn Herman. THE DEVOURING GRAY follows four teens who have the power to protect their town from a monster – if their families' dark secrets don't devour them first. It's the perfect read for Potterheads who love a bit of mystery with their monsters.
On the edge of town a beast haunts the woods, trapped in the Gray, its bonds loosening…

Uprooted from the city, Violet Saunders doesn't have much hope of fitting in at her new school in Four Paths, a town almost buried in the woodlands of rural New York. The fact that she's descended from one of the town's founders doesn't help much, either—her new neighbours treat her with distant respect, and something very like fear. When she meets Justin, May, Isaac, and Harper, all children of founder families, and sees the otherworldly destruction they can wreak, she starts to wonder if the townsfolk are right to be afraid.

When bodies start to appear in the woods, the locals become downright hostile. Can the teenagers solve the mystery of Four Paths, and their own part in it, before another calamity strikes?
Titan Books will publish THE DEVOURING GRAY in 2019. Check out the spine-tinglingly atmospheric cover designed by Natasha MacKenzi, and read an exclusive extract from the book below!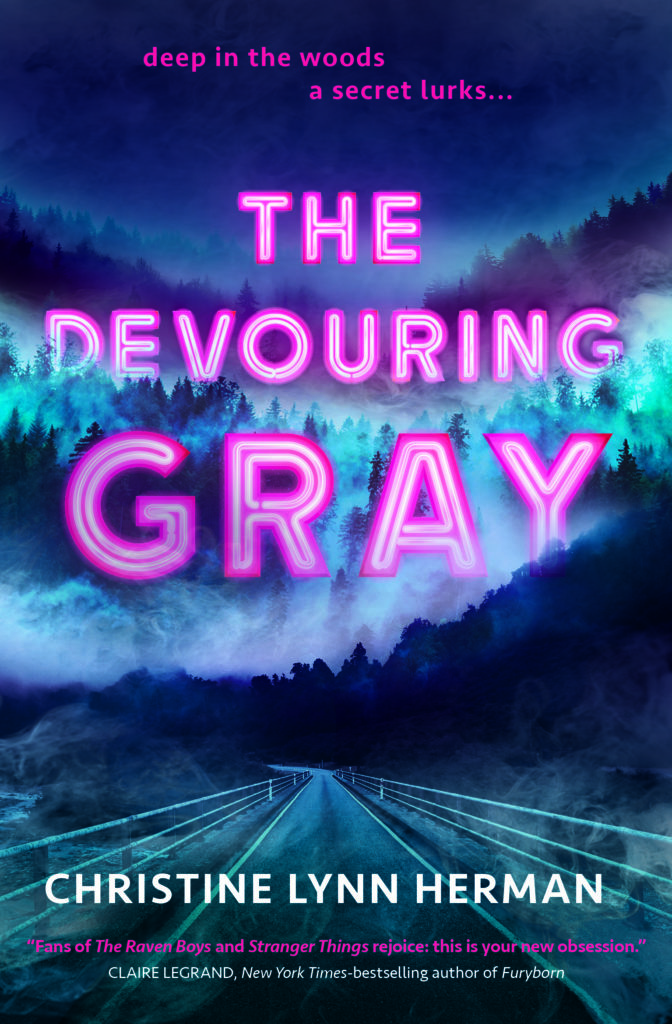 Harper Carlisle moved through a fluid series of parries and ripostes, her bare toes pressing into the dirt as she upped the pace of her footwork. She pictured the monster in the Gray—thin, skeletal, faceless—and lunged. The yellowing lace of her nightgown bunched around her knees as she drove her blade through the imaginary creature's chest.

She didn't know what the Beast looked like. No one alive did.

Harper knew what it sounded like, though. Hardly a day went by where she wasn't haunted by the memory of its hollow, tinny voice inside her head.

It was almost dawn now, but she'd been up since three, practicing her swordplay behind her family's cottage. Stone animals nestled in the dying grass around her, a reddish-brown audience. These statues were the closest thing the Carlisles had to family heirlooms. Some were sentinels, carved from hardened clay and serving as crude vessels for the Carlisles' eyes and ears—but others, like the deer, had been real animals once, before a Carlisle turned them to stone guardians that could bend to their will with a mere touch.

It had been a long time since Four Paths had seen a Carlisle that powerful.

"I win," Harper said softly, just as the phone she'd nestled between the dormant deer guardian's ears began to sound with her morning alarm. She kept the sword with her as she headed back inside, even though she had to use her residual limb to jimmy the doorknob open. Losing her left hand had changed the way she fought, altered her balance and footwork, the way she lunged across the grass. But it hadn't changed how confident Harper felt when she was holding a sword.

It was far less daunting to think about the first day of school with a blade in her hand.

Harper wiped her feet off and moved soundlessly through her house, stopping only to reluctantly slot the sword back into its place of honor above the mantle. Maybe waking up this early to practice was excessive, but there were eight members of her family. All were nosy, including the baby. And none of them knew she'd kept training after the accident.

Harper was willing to go to drastic measures to keep it that way. It wasn't like she'd slept much since the day she'd lost her left hand.

The day she'd slipped into the Gray.

Three years later, and Harper still dreamed of the lake closing over her head. Of resurfacing somewhere new, where her breath couldn't fill her lungs and her arm crumbled into stone on the riverbank. It was a forest, or at least it looked like one, but the trees were skeletal and twisted, bowed beneath an unmoving sky that shone like splintered steel.

There was no color in the Gray. No color except the sharp, crimson shine of her blood.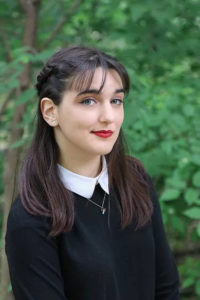 About the author:
Born in New York City but raised in Japan and Hong Kong, Christine Lynn Herman subscribes to the firm philosophy that home is where her books are. She returned to the United States for college, where she traded a subtropical climate for harsh, snowy winters and a degree at the University of Rochester. She resides in Brooklyn, where she works in publishing by day and writes novels by night.
She tweets @christineexists