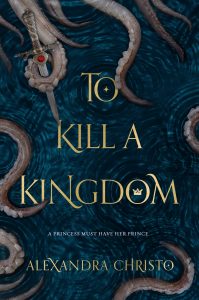 To Kill a Kingdom is not the Little Mermaid story you remember, but it's a story that you will fall in love with.
New twists on familiar fairy tales are totally in right now. They have been for quite some time. That being said, just because you twist a well-known tale into a new story doesn't make it unique, and many times the new version is simply not interesting enough to hold my attention.
That is NOT the case with Alexandra Christo's To Kill a Kingdom. Christo has taken the often Disney-fied version of Hans Christian Andersen's The Little Mermaid and completely turned this story on its tentacles.
Princess Lira is siren royalty and the most lethal of them all. With the hearts of seventeen princes in her collection, she is revered across the sea. Until a twist of fate forces her to kill one of her own. To punish her daughter, the Sea Queen transforms Lira into the one thing they loathe most – a human. Robbed of her song, Lira has until the winter solstice to deliver Prince Elian's heart to the Sea Queen or remain a human forever.
I could not put this book down and, in fact, read it all in one sitting. As a fan of the Disney version of The Little Mermaid, I was intrigued at Christo's twist and impressed with the time and care that was taken in crafting not only the absolute evil that is Lira's mother but also the depth of character the reader is allowed to see in Prince Elian. Perhaps I have been reading the wrong books, but in most stories where there is such a strong female protagonist, the male counterpart is often left a bit lacking. I did not feel that piece missing in this story, and it truly felt like it was Lira and Elian's tale to tell, together in equal measure.
Among Christo's other twists are the kingdoms themselves. Without spoiling it for you, because you really do need to read this for yourself, there are many colorful and disgusting characters that Lira and Elian interact with, and each one serves an important purpose. Each supporting character has their own agenda, and everything they do or say is very deliberate, if you truly pay attention to their words and actions. The wordplay in this book is smart and fun, echoing slightly the art of the fairy deal or wishes from a trickster genie. Christo's storytelling forces you to pay attention and be present for the journey alongside Lira and Elian so that you're ready when that final battle comes. It was a great adventure, and I cannot wait to see what Christo will write next.
As part of our review of To Kill a Kingdom, we had the opportunity to interview Alexandra Christo, so make sure you look for our interview to be published later this week. We discuss the inspiration for her book, the publishing process, and fan casting To Kill a Kingdom if it were ever to get picked up for a feature film!
We also have great news for you, readers! One of you will get to take home a paperback copy of To Kill a Kingdom, thanks to Fierce Reads! This giveaway is open to United States and Canadian residents only, from April 19 to May 4 at 11:59 p.m. Eastern time. The winner will be contacted via email after the end of the contest and must respond within 24 hours to claim their prize, so make sure to check your junk and spam folders, or another winner may be chosen. If you don't want to take a chance at winning, you can purchase your copy of To Kill a Kingdom here.
Don't wait any longer to enter – this is an absolute must-read! Good luck!
A copy of To Kill a Kingdom was provided by the publisher to MuggleNet for review.