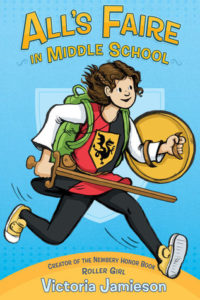 Imogene loves her life as part of the Florida Renaissance Faire, where both of her parents work. This year, Imogene will both start work there herself as a Squire and start public school for the first time. You'd think dragons would be scarier than middle school… but you'd be wrong.
This is an absolutely charming book from the author of 2015's Roller Girl. For one – admit it – you've always wanted to know what it's like to be one of the people who work at Renaissance Faires. For another, Jamieson renders Imogene's experiences in middle school with a keen sensitivity that's both entertaining and a little bit painful (but only because I was remembering my own middle school days as I was reading!).
My favorite thing by far was the way that Jamieson explored the experience of coming from a family without a lot of money. That was my life growing up, and not a lot of books – graphic novels or otherwise – addressed the experience of being teased for owning the generic of something rather than the name-brand or the heartbreaking feeling of discovering the difference between the two. This isn't the main focus of the story – just another one of the reasons Imogene has a bit of trouble adjusting to her new school – but I definitely appreciated its inclusion.
Though All's Faire in Middle School is technically a middle-grade novel, all lovers of children's literature, and especially fans of authors like Jennifer L. Holm or Raina Telgemeier, will enjoy it! I know I kept my copy for myself and bought another for my two little sisters who are starting middle school this year.
A copy of this book was provided by the publisher for review.