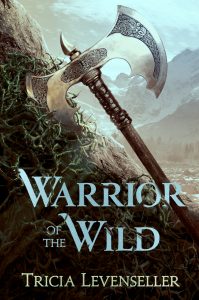 To win the right to return and live among her people, Rasmira must face an impossible challenge: kill the god who has been taking tribute from her village and the surrounding villages for hundreds of years or attempt to survive in the wild among the deadly monsters who call it home.
Told in four parts, author Tricia Levenseller invites readers to join Rasmira's coming-of-age journey, a story of a strong, female protagonist who refuses to bow to societal norms and expectations of her gender. Levenseller has created a new and horrific world that will not be tamed, giving birth to creatures one can barely stand to imagine – the ziken, beasts that excrete a venom that paralyzes their victims, that feast on human flesh, and whose limbs regenerate; the gunda, a creature of myth to most villagers but one that can consume a human whole; and the hyggja, a water-dwelling beast that eats anything it comes into contact with.
Warrior of the Wild was a wonderful read, with a tale of friendship and loyalty that the author herself compares to that of Harry, Ron, and Hermione. While the wild itself is a character in the book, Levenseller creates depth of both her human and supernatural characters. All of Rasmira's relationships are layered with complications. As she navigates the world around her, Rasmira begins to see those complications shift her belief system entirely. As a heroine, Rasmira is smart and stubborn in equal measure, but those attributes always kept me rooting for her and wanting to protect her from even herself in some cases. Her relationships with her parents, her siblings, other village youth who are tackling the trial, and those she meets in the wild – each character or monster we meet during her harrowing journey – help to shape the hero Rasmira was always meant to become. It all leads to an ending the reader will never see coming, and the entire book reads like it should be optioned for a feature film. I could easily imagine it being picked up by a production company and made into a great movie.
Along with the opportunity to read and review Warrior of the Wild, MuggleNet was given a chance to interview Levenseller, and we'll be posting that soon, so keep a lookout for our author interview, which will include her advice on publishing, writing battle scenes, world-building, and fan reactions to relationships in the book.
We're so excited to share this amazing book with you, thanks to our friends at Fierce Reads! As part of this contest, we will have five copies of Warrior of the Wild to give away.
This giveaway is open to United States residents only, from April 10 to April 24 at 11:59 p.m. Eastern Time. Winners will be contacted via email after the end of the contest and must respond within 24 hours to claim their prize, so make sure to check your junk and spam folders, or another winner may be chosen. If you don't want to take a chance at winning, you can purchase your copy of Warrior of the Wild here.
Don't wait any longer to enter – this is an absolute must-read! Good luck!
A copy of Warrior of the Wild was provided by the publisher to MuggleNet for review.