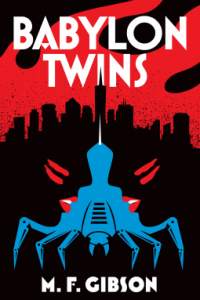 Clo and El Yetti are your average pair of twin sisters… if being slightly homicidal and the last survivors of an AI apocalypse counts as "average."
Ten years ago, Lauren Yetti put her three children in the car and drove away from an AI-controlled San Francisco full of drug-addled zombies. Clo and El were raised in the woods, learning to survive far from a country of mindless addicts and drone-dominated cityscapes. Years went by before they saw another biped, but when an intruder and a demonic deer appear, Clo and El return to the city, where biomechanical nightmares control what remains of humanity's consciousness. Clo, El, Daisy Duke (their rifle), and Toothy (their hunting knife) must face the End Of The World or lose their way of life altogether.
Gibson's take on artificial intelligence avoids many of the usual tropes with its unique heroines. The twins tell their story as one entity, narrating in a combination of the first person plural and "CloElish," their secret cryptophasic twin language. Though they speak as one unreliable narrator, both twins maintain their own separate identities throughout – Clo is more sentimental, while El is stoic and serious – but they're both strong, badass characters who will certainly leave an impression.
There's also an underlying social commentary in this narrative. Readers will begin to notice parallels to Yerba City – the AI overlord of this dystopia – in creepy aspects of today's world. Sci-fi meets dark humor and some serious twists in the first book of this trilogy.
Teens and young adult fans of Alien, 2001: A Space Odyssey, and YA dystopian books like The Hunger Games and Divergent will love Babylon Twins, whose kick-butt characters and compelling storyline will leave readers begging for the sequel.
Babylon Twins is available now on Amazon.
A copy of this book was provided by the publisher, Thinking Toy Press, for review.