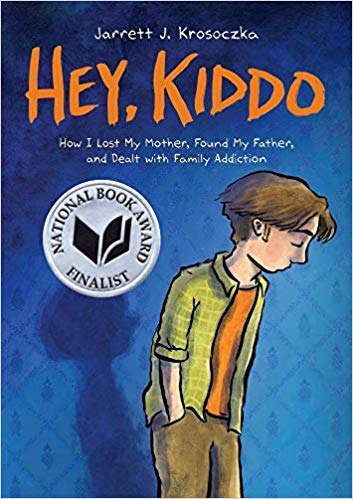 Hey, Kiddo, by Jarrett J. Krosoczka, is a graphic memoir about Krosoczka's life. The memoir is subtitled How I Lost My Mother, Found My Father, and Dealt with Family Addiction, which sums up the book pretty nicely.
Krosoczka concisely and quickly tells the story of his childhood and adolescence and what it was like to grow up with his grandparents instead of his parents. The book gracefully tackles addiction and abandonment, and as a social worker, this book really hit home for me and reminded me of the people I work with. Krosoczka uses his art to tell his story and help himself heal.
A graphic memoir is an incredible way for an artist to tell his own story because the reader is immersed in his words and his images. Graphic memoirs are always my favorite, and this is another excellent addition to the genre.
What I really loved about this book is how much of it is real. At the end of the book, Krosoczka explains in a note that all of the letters and artwork, with two exceptions, are actual artifacts from his life. Knowing that you're reading a real letter from a mother struggling with addiction to the son she never gets to see is extremely powerful.
Krosoczka tells a difficult but ultimately uplifting story of growing up without your parents and how you learn to love people for who they are. It's not an easy story to read at most points, but it's an important one, and Krosoczka explains at the end that his mother wanted him to tell their story so it could help others. Krosoczka never vilifies his mother or his grandparents, who had their own problems, but instead shows how young people can love others and grow to understand who they are and what they believe in.
I hope that kids who are facing similar experiences can be encouraged and uplifted by this memoir, and I applaud Krosoczka for his honesty and his expert storytelling. You can purchase Hey, Kiddo here.
Millions of people are affected by various mental health conditions. May is Mental Health Awareness Month, and this book helps shine a light on what it's like to grow up without people and with a parent who is suffering from addiction. We at MuggleNet are working to help all of us cast Expecto Patronum and rid ourselves of Dementors.
A copy of this book was provided by the publisher, Graphix, for review.