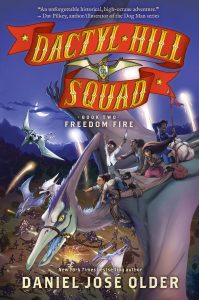 If you didn't hear about this historical-fiction Civil War/dinosaur crossover when I reviewed the first book last fall, now is your chance to get up to date on this awesome series.
After a daring escape from New York City, Magdalys and her friends are headed south to search for her older brother, Montez, whom Magdalys hasn't seen since he left to fight for the Union Army. Just as they make it into Tennessee, circumstances force them to pause in their quest and ally themselves with the Louisiana Native Guard, an all-Black Union regiment. Magdalys doesn't want to put off searching for her brother any longer, but the Native Guard needs their help: the Confederate Army has a mounted Dino regiment, and without Magdalys' special talents, the Union soldiers don't stand a chance.
As with the first book in this series, I just can't get over what a good idea it is – an unexpected but glorious combination of genres that results in a narrative that is both fun and powerful, depicting the Civil War from the viewpoint of some of its most vulnerable participants. Magdalys and her friends are children of color, just the population whose futures will be drastically affected by the outcome of the war. To see them take an active role in fighting brings alive both the war and its high stakes (not to mention its heavy toll on those who devote their lives to fighting it).
Freedom Fire is also chock-full of action, sure to thrill young fans of adventure stories. Author Daniel José Older works some remarkable alchemy in his balance of storytelling, history, and dinosaurs. I also really appreciated that Older has his characters reflect on the mental toll war takes on its participants; Magdalys and her friends may be fighting a just war, but that doesn't make it an easy one. I highly recommend this series for the middle-graders in your life.
A copy of this book was provided by the publisher, Scholastic, for review.