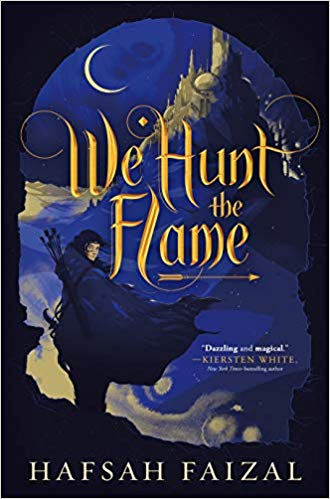 Everyone in Arawiya fears the Arz, a shadowy forest that encircles the land with skeleton trees and demons. Everyone but Zafira, the only huntress in her caliphate brave enough to don a man's clothes and enter in search of food for her people. Women aren't respected in Arawiya because of government propaganda and ancient legends, so Zafira risks her life every day under the guise of the Demenhune Hunter.
Nasir is a different kind of killer – as the sultan's son and prized assassin, his job is murdering any dissidents that dare speak out against his father's rule. His work has made him a legend throughout Arawiya as the Prince of Death, but his father has ordered him to kill another legend – the Demenhune Hunter.
As Zafira sets out to find a book that will restore magic and stop the Arz, Nasir embarks on the same quest to stop her. Fate and magic have other plans for them, though, and the huntress and the assassin soon learn that their quest may be even more challenging than they imagined.
We Hunt the Flame spins a tale of a harrowing adventure with mysterious elements from ancient Arabian myth, set within a fascinating, detailed world. The narrative alternates between Zafira's and Nasir's perspectives, so the reader is able to watch their stories unfold side by side, even when they inevitably collide. Their characters are rich and complex, as are even the most inconsequential of side characters – Deen and Altair are just as compelling as their companions.
The novel's greatest strength is in its mythology and use of culture: Faizal combines pieces of Arabian legend, like the ifrit and dandan, with original concepts and lore. Worldbuilding is a huge part of this book, and while it takes a little time to digest, the complexities of Arawiya will simply pull you into the story even more.
Fans of Percy Jackson and Throne of Glass will love this enthralling story of hidden magic and overwhelming courage. We Hunt the Flame is available to purchase now.
A copy of this book was provided by the publisher, Farrar, Straus and Giroux, for review.