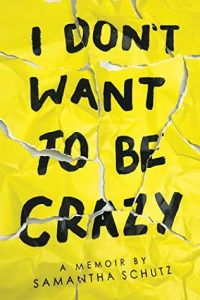 The memoir I Don't Want to Be Crazy, by Samantha Schutz, is a harrowing true story that chronicles the struggles of a girl with anxiety disorder during one of the most pivotal stages of her life – college. Like many young adults, Samantha was excited by the possibilities and new experiences that college would bring. She meets new friends, meets some boys, goes to parties, and dabbles with recreational drugs. However, anxiety and panic attacks quickly consume her life. Throughout the book, we learn about the symptoms she experiences and follow her journey of seeing various therapists and taking a variety of medicines that only seem to work for a little while before she has to try something new.
"My whole life has changed, or at least I think it has. It's hard to tell what would have been, what I would have been, if I never had anxiety disorder."
I loved the free-verse poetry style that this book was written in, and it was unlike any other memoir I've ever read. I felt like I was reading Samantha's personal journal, and it is a very easy read. It was an absolute page-turner, and I was gripped by the story from the beginning. I finished this book admiring Samantha's courage to tell her story and her honesty. As someone who struggles with anxiety, this book was extremely relatable, and I found myself underlining quotes and dog-earing pages. I think my favorite thing about this book is it helps to reduce the stigma of mental illness and shows the reader that it is okay to ask for help. It also illustrates the importance of having a support system like Samantha does with her friend Rebecca.
Even though the experience of anxiety disorder is not the same for everyone, I recommend this book to anyone who suffers from anxiety or knows someone with anxiety or panic disorder and wants to better understand what they are going through.
Like Samantha, millions of people are affected by various mental health conditions. May is Mental Health Awareness Month, and this book helps illustrate living with the Dementors brought on by anxiety. We at MuggleNet are working to cast Expecto Patronum and rid ourselves of Dementors.
A copy of this book was provided by the publisher, Scholastic, for review.