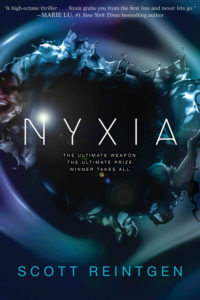 Back in June, we were able to give you an exclusive excerpt of Nyxia, the first book in an exciting new science fiction trilogy by Scott Reintgen. Now, the book is available to buy, and we are beyond thrilled to share our full review!
Emmett Atwater and nine other teenagers have been selected for a very special mission. Babel Communications, a powerful technology company, needs young people to visit a recently discovered planet, Eden, and extract Nyxia – an alien natural resource with mysterious powers. The aliens of Eden, know as Adamites, are hostile to human adults, but for some reason are tolerant of children and teenagers. After performing this service for Babel, Emmett and the others will be handsomely rewarded, to the tune of millions of dollars. For a bunch of kids from poor families (or no families), it's a deal too good to be true.
The catch? Only eight out of ten of them will ever make it to Eden – and they'll have to compete against each other for a spot on the planet.
I meant to read Nyxia in chunks but ended up reading it in just one sitting because I liked it too much to put down. This is a great book for fans of Ender's Game or The Hunger Games, but it manages to have a charm all its own despite similarities to those two classics.
The standout feature of this book was, for me, its characters – not just Emmett but also the vibrant cast of personalities competing against him. From Kaya, Emmett's genuine and friendly suite mate, to Bilil, the one person in this competition who never gets angry or stops being kind, a big part of Nyxia's strength comes from watching how all these different people interact with one another and seeing how friendships (and rivalries) are born. I really came to care about the people in this book, which made its fast-paced action meaningful as well as exciting.
What's more, author Scott Reintgen has made sure that his cast of characters comes from a variety of cultures and backgrounds. Almost all of them are economically disadvantaged, but that's one of the few things they share. Emmett comes from Detroit, a descendant of slaves, Kaya from Japan, and Bilil from Pakistan. And it's not just nominal diversity, either – Reintgen really tries to respectfully embody the backgrounds of the teens he puts on the page. They don't feel like token characters; just real people who come from a lot of different places.
I can't wait to see where Reintgen takes the series from here. Definitely pick this one up if you are a fan of space operas!
A copy of this book was provided by the publisher for review.