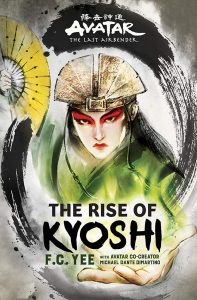 Fans of Avatar: The Last Airbender and The Legend of Korra, rejoice: The vibrant world conjured in the beloved animated television series is now the focus of a series of YA novels. The Rise of Kyoshi is the first of these novels to be released as well as the first in a pair of stories to focus on Avatar Kyoshi, the legendary Earthbending Avatar.
Relatively little was revealed about Kyoshi in the original Avatar series beyond her impressive height, longevity, and general badassery, which makes her the perfect subject for author F.C. Yee to explore in a new story. Yee worked with Avatar cocreator Michael Dante DiMartino to craft a narrative that fits with the spirit (and the canon) of the original show. In fact, that's one of the first things I noticed while reading The Rise of Kyoshi: It feels like an Avatar story. Sometimes tie-in novels, especially prequels, can feel stunted and disappointing, but I'm happy to report that The Rise of Kyoshi is really, really good. I'm already pretty desperate to read Yee's second installment, and I just finished this one yesterday!
I think a big part of Yee's success in this regard has to do with the rich relationships developed between Kyoshi and the other characters. The real heart of Avatar has always been its characters and the core values of love, teamwork, and loyalty that help them cope with the various obstacles put in their way. As DiMartino says in a short forward to the novel, every Avatar story has to have a few particular elements, of which a "team Avatar" is one of the most important. I was a little unsure if new characters I was meeting for the first time could be as compelling as the friendships I loved in Avatar and Korra, and it was a pleasant surprise to be shown that yes, indeed, they could.
The Kyoshi we first meet in this story is a far cry from the legendary Avatar we've glimpsed before – poor, abandoned by her parents as a child, and neglected and ridiculed by her fellow villagers until a benevolent Air Nomad takes her under his wing, earning her a position as a servant in the Avatar's household. After early hardship in her life, Kyoshi is happy for the chance to serve Avatar Yun, the talented, charismatic, and handsome boy identified as the new Avatar after a long and difficult search. But Kyoshi's world is thrown into chaos when Yun's mentors begin to suspect that Kyoshi, not Yun, might be the Avatar.
The Rise of Kyoshi is definitely a must-read for any fan of the Avatar universe and a strong enough book that I think the story will appeal to new readers as well (although they may want to do a little reading up on the mechanics of bending to make sure they don't get lost). This novel gives me high hopes for any future Avatar tie-ins to come, as well as Yee's other work. I'm glad I'll have something to read while I'm waiting for the next one!
A copy of this book was provided by the publisher, Amulet Books, for review.