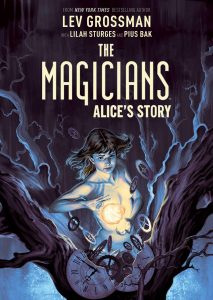 If the execution of the Fantastic Beasts movies and the hyper-commercialization of all things Potter have some Potterheads questioning the state of Harry Potter fandom, the good news is that it's a really great time to be a fan of Lev Grossman's Magicians trilogy, often called by reviewers (perhaps reductively but also not totally inaccurately) "Harry Potter for adults."
Not only is there the excellent Syfy show – which just finished its fourth season and which I would characterize as a thoughtful and highly entertaining fanfiction of the books – but BOOM! Studios has also acquired a publishing license to create Magicians comics. The Magicians: Alice's Story, written by Lilah Sturges and illustrated by Pius Bak, is the first product of that license, and let me tell you – it's good.
The premise is just what it purports to be: The graphic novel adapts the events from the first book in Grossman's trilogy but from the perspective of Alice rather than Quentin. This results in a compelling blend of new content about Alice's past and interiority and original events from the source material. Lev also provided notes for Sturges throughout the writing process – his most consistent one was for Sturges to make Quentin more likable – so fans can rest assured that Alice's Story feels of a piece with the original novel.
It was Sturges's idea to tell the story from Alice's perspective rather than just do a straight adaptation of The Magicians, and her instinct was right on point, resulting in a book that is far more interesting than the alternative. Grossman created an incredibly rich world with his trilogy, and it's refreshing to get to experience some of it through the perspective of someone other than Quentin – especially Alice, who finally gets the chance to be a leading character in her own right rather than just be reflected through Quentin's gaze.
I also really appreciated that both Sturges and Bak relied on the books, rather than the television show, to create Alice's Story. As much as I enjoy the show, it is always disappointing to me when a film or television adaptation becomes so popular it supersedes the book it is based on. Instead of relying on actor appearance or other elements from the show to inform their narrative and visual choices, both author and illustrator created new ways of seeing and understanding The Magicians. (And what a relief to have Janet restored to her rightful appellation!)
Because the story is told from Alice's perspective, some readers might miss the more – er – endearing aspects of Eliot and Janet, which are downplayed in this graphic novel. After all, Alice had a far different relationship to them than Quentin did. But even if you're usually skeptical of graphic novel adaptations, I recommend you give Alice's Story a try. I, for one, am excited to see what Magicians stories might emerge from BOOM! in the future.
You can get a copy of the book here.