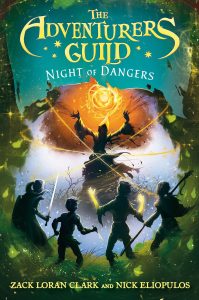 Night of Dangers is the third and final book in The Adventurers Guild series. In the last installment, Zack Loran Clark and Nick Eliopulos place our heroes in ultimate and perhaps fatal danger.
In a thrilling twist at the end of the second book, readers realized that Zed was possessed by the evil witch Makiva. This is where we find him at the start of Book 3, and you might scream at the pages a few times as the other heroes fail to realize it's not Zed (it's not Zed!!!). Zed attempts to reach his friends in their dreams after prompting from a surprising character who has also been trapped by Makiva. Zed's failures and successes in communicating lead to one incredible revelation (if Books 1 and 2 were missing only a little more representation, it's just because the authors were saving it for this amazing reveal).
Brock, meanwhile, is pretty much where he always is. He's cut his ties to Lady Gray (though he is still wondering if her name is spelled with an E or an A). Brock's story doesn't really pick up until the later third of the book, though his point-of-view chapters in the beginning are entertaining since they show a different version of the impostor Zed.
Somehow, Clark and Eliopulos manage to make the stakes even higher in this novel, which I really didn't think was possible after Books 1 and 2. Makiva is an amazing villain, and you won't guess her true backstory, though once you read it, it will make perfect sense. The book's plotting and pacing are excellent, and as usual, the characters are wonderful and real.
Clark and Eliopulos even manage to subvert some classic Dungeons & Dragons/fantasy tropes. One of our heroes is presented with a magical choice toward the end of the novel, and rather than exploring it further, Clark and Eliopulos focus on the friendships that were always at the heart of the series and cast the deus ex machina aside. I may have cheered.
The Adventurers Guild is one of the best fantasy series I've read in a long time. Every single book provides an epic and thrilling ride, perhaps because the series was inspired by the authors' D&D adventures – each book is its own perfect campaign. If Clark and Eliopulos were Dungeon Masters near me, I'd never miss a session.
A copy of this book was provided by the publisher, Disney-Hyperion, for review.