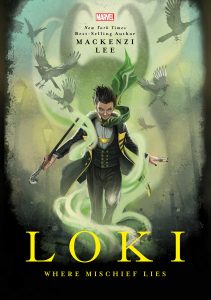 It's hard living in Thor's shadow, even if you're a prince of Asgard. No matter how hard Loki tries to prove himself to his father, Odin is still suspicious of his penchant for magic and lack of washboard abs. The only one in Asgard who sees Loki's power as something other than a threat is Amora, another young sorcerer with a knack for getting in trouble. And when Loki and Amora get caught meddling with serious magic, Amora is banished, leaving Loki alone and friendless – not to mention further in his father's bad graces than ever. Desperate to prove himself, Loki accepts an assignment from his father to investigate rumors of Asgardian magic on Earth. Upon arriving in Victorian London, Loki partners with a group of intrepid paranormal investigators to uncover the perpetrator behind a rash of mysterious deaths.
Teenage, bisexual Loki in 19th-century England is a great premise for a YA novel, and Marvel fans who have been eagerly awaiting a novelistic treatment of their favorite trickster god will not be disappointed with Mackenzie Lee's Loki: Where Mischief Lies. Lee has crafted a narrative that combines nods to the popular media franchise with delicious details that could be right out of fan fiction (like Loki's obsession with a particularly devastating pair of new boots). And though some of the story's "twists" can be seen coming from a mile away, there's enough whiplash and sleight of hand to make most Loki-lovers happy.
Despite all that, something about Loki: Where Mischief Lies fell a little flat to me, a phenomenon I blame less on Lee and more on the narrative difficulties of writing about a teenage version of a chaotically neutral god. Part of what makes gods interesting is their timelessness – something is just lost when you have to grapple with their awkward teenage years (not to mention some timeline confusion with Loki's reputation on Earth). It turns out that having a trickster as a POV character can also be a hard balance to strike, forcing the author to impose logic and emotion a reader can relate to onto actions that are meant to be chaotic and unpredictable.
Ultimately, this novel is about a young Loki coming into his power and discovering who he really is. It is the first of three planned novels by Lee about the character, and we can only hope that the sequel will have fewer growing pains than its predecessor.
A copy of this book was provided by the publisher, Disney Books, for review.