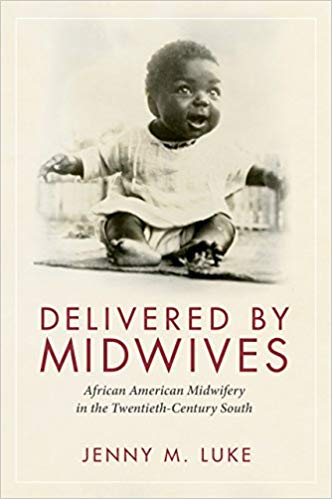 In Delivered by Midwives, Jenny M. Luke documents the history of African American midwives in the American South, sharing with readers a legacy of community maternal care. The bulk of this history, as the book's subtitle suggests, is focused in the twentieth century, but an introductory chapter underscores for readers how midwifery practices evolved out of the conditions of slavery, a context that is vital to understanding the obstacles midwives faced in the course of doing their work.
Luke's history proceeds to follow a trajectory from the days of lay midwives in the early twentieth century through the arrival of modern medical care (and the white professionals who administered it), eventually forcing midwives to stop practicing altogether. Beyond illuminating this little-studied history of African American midwives, Luke also suggests how the models of care they employed could be adapted to improve contemporary standards of maternal care.
Delivered by Midwives is an academic book, and so some readers might find the prose challenging, but I found it both compelling and approachable, even to lay readers like myself. One of my good friends is a midwife, and I was interested in learning more about the history of the practice in the US (beyond what my friend has told me, my only source of information was, perhaps embarrassingly, the Call the Midwife television show).
If you, like me, were previously only acquainted with midwives from the BBC show, you'll recognize a lot of parallels between the obstacles highlighted there (poverty, hygiene, etc.) and the conditions Luke describes. What sets her account apart, obviously, is the bigotry and discrimination both African American midwives and their clients faced. All in all, it's a fascinating history and a necessary text for anyone interested in midwifery, the politics of childbirth, or Black community-building in the twentieth-century South.
A copy of this book was provided by the publisher for review.