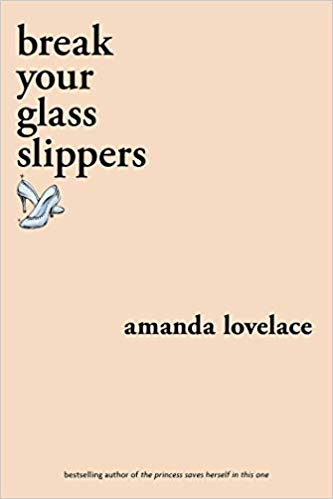 I have followed Amanda Lovelace's writing career since she was known only as the aspiring writer "BookMad" in the Tumblr days of yore, and it has been so amazing to watch her go on to become a Goodreads Award–winning, USA Today–bestselling author.
If her name is on it, I buy it – even if poetry isn't typically my genre of choice. There's just something about the way that she writes that inspires me, and I hope that other readers can find that same connection with this book.
In the same style as her previous works, break your glass slippers is a poetry collection following the sometimes-treacherous journey to self-love. What I found particularly enjoyable about this book was the voice of the fairy godmother and that this "point of view" could be interpreted in any way by the reader – whether the reader wants to read it as their inner voice, the voice of their best friend, the voice of a parent, or someone else entirely.
break your glass slippers, which includes a foreword by author Nikita Gill and beautiful illustrations by Janaina Medeiros, gives a message of hope and comfort to those whose fairy tales might not have a happy ending in sight or whose wicked stepmothers seem to be controlling the story. Like glass slippers, fairy tales are not one-size-fits-all, and sometimes it takes completely shattering the glass slippers to catch a glimpse of our true happy ending.
I highly recommend this poetry collection to readers who love short-form poetry, fairy tales, and powerful feminist messages. I also recommend Lovelace's entire works, which can be found on her website.
A copy of this book was provided by the publisher, Andrews McMeel, for review.