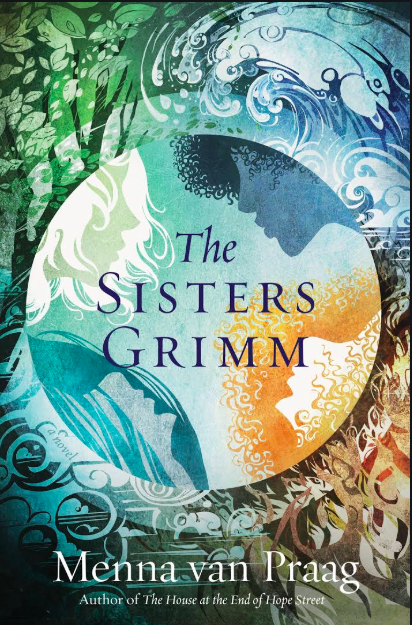 In The Sisters Grim, Manna van Praag takes us through a decades-long story that features the lives of four sisters: Goldie, Liyana, Scarlet, and Bea. Fathered by a demon who wants nothing less than earthly domination, the sisters must remember their shared past. They must choose the path to darkness or light on their 18th birthday, when they must battle for their lives. Dreaming of the strange and beautiful Everwhere where they spent the dreams of their childhoods, the sisters connected by blood and magic must rediscover who they are and remember one another before it's too late.
Van Praag spares no detail or description when creating the enchanting world of Everwhere. One of the most important aspects of a book, especially one that relies heavily on magical realism, is the ability to paint a picture so vivid that you can imagine yourself inside the story. I could see myself stepping through the gates of Everwhere, smell the forest leaves, and hear the crunch of leaves beneath my feet. If nothing else, you can count on The Sisters Grimm for an incredibly immersive experience.
I was very excited about this book, and I thought that flips backward and forward through time were a creative way to explain how our girls got to be the way they are. We begin in the present day with a countdown to the sisters' 18th birthday, and then we see them over a decade in the past as children. It was a clever way to set up the development of the story and see what childhood traumas have shaped their characters.
I also enjoyed the idea of good and evil and having to choose a side. While I feel that this trope is overdone in most literature, this book reminded me that there are many shades of grey in all of us and that we can be both good and bad. At times, we watch Bea grapple with the darkness she feels on the inside, while at others, we witness the unexpected joy she finds in her life. I felt deeply for her struggle with her inner (and literal outer) demons. The characters were complex and real, making it easy to believe they could be any one of us.
However, in some cases, things went much too slowly for my taste. For a 427-page book, I don't feel like a lot happened until the last 100 pages or so. I understand the need for exposition, but I feel like I could have skipped a good middle chunk of the book and still have a near-perfect understanding of what was going on. Certain aspects even felt unnecessary to the plot of the overall storyline. At times, it also felt like this was the second book in a series and not the first because so much detail wasn't filled in until later on in the story. I understand that's a writing choice, but I constantly felt like I was missing something.
Overall, I loved the characters in this book. I love the idea of girl power and feminism, making bad choices, forbidden loves, and all the other messy and tangled things that make life complicated. What I like most about this story, though, is that it makes me believe in magic. I've always believed in magic since I've gone to Hogwarts and everything, but this makes me believe in deep-rooted ancient magic, the kind that you can feel coming from the depths of the earth, the old magic you feel in the ruins of castles and lush green mountains. It makes me feel like anything is possible.
If you like strong female leads, magic, and a bit of romance, I recommend The Sisters Grimm as a supernatural tale of sisters and their search to be at peace.
A copy of this book was provided by the publisher, Harper Voyager, for review.